Brandeis's motto and utmost value
Among the five different campuses the Brown-I cohort and I will visit, Brandeis is one we will surely visit. Though not known as well as Harvard, Yale, MIT, or Dartmouth, Brandeis carries its own distinction, setting this educational institution apart from the other four.
Established in 1948, Brandeis University is a private research institution, located in Waltham, Massachusetts. It was named after one of the U.S. Supreme Court Members, Louis Dembitz Brandeis, who demonstrated superiority in social justice as well as academics. It is rather one of the youngest universities, but what sets it aside from the group (of the colleges we will visit) is that Brandeis has a particular focus in liberal arts aside from their other fields of study.
Brandeis University
If I were to attend Brandeis, I would be one of the nearly 3,600 undergraduate students of the school. I would particularly see myself in The College of Arts and Sciences, where they offer 43 majors and 46 minors. Personally, I vision myself studying to major in a biological science (biochemistry, biology, chemistry), neuroscience, psychology, or sociology. Simultaneously, I'd be minoring in International and Global Studies or Peace, Conflict, and Coexistence Studies, two topics that I find to be interesting.
Within Brandeis's 235 acres, one is sure to find beautiful architecture from the various sites at the school. Because I can't quite decide which is my favorite, it's safe to say I was stunned with the architectural design of pretty much every building at Brandeis. However, I think the most interesting building there is the castle. Constructed in 1928, the Usen Castle began as an "anatomical building" to be constructed 40 feet high and 60 feet around. Actually, the "blueprint" was quite interesting itself. According to legend, it was John Hall Smith who wanted to replicate part of a castle that he had visited in Europe, however was not able to because he was not allowed access to the official castle's blueprints. Instead, a set of hired artists and architects created the building. In it, there has been much reconstruction due to the different ownership and continuously newly appointed uses for the building. Today, though, this European-inspired castle is and has been home to 120 Brandeis sophomores every year. It's quite interesting how just a single building itself contains a history, or as tour guides like to say, mythistory. If you ask me, I'd make visiting this site a must. I mean, who wouldn't like to experience a medieval feel in a post-medieval era and, better yet, witness the product of a "mythisotical" history? I sure would!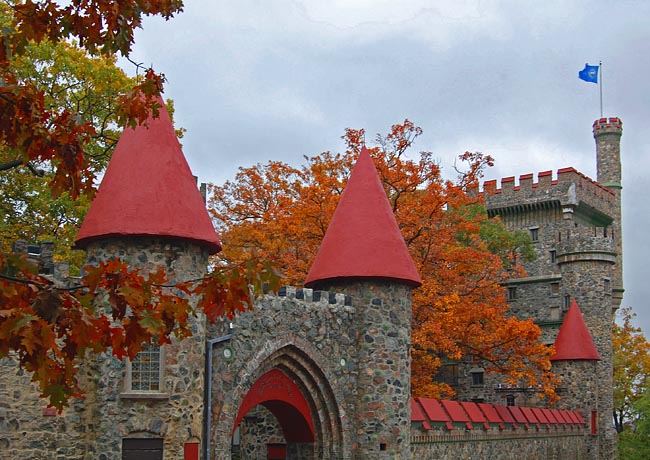 Usen Castle, adding a medieval flare to Brandeis
The Farber Library
Adding on to the Usen Castle, I think it is fair to mention other notable buildings, such as the Farber Library, Mandel Center, and the Carl J. Shapiro Science Center, and . At the Farber Library, there has obviously been an immense amount of studying, however the architecture makes it an outstanding and pleasant-to-look-at site. On the other hand, the Mandel Center is home to the humanities that take place at Brandeis. The Carl J. Shapiro Science Center holds an advancing development in scientific studies. Among these buildings, there has been stimulation from Brandeis students, which has produced a broader look at their fields of study at the school. Not only is the school stimulated to create a broader perspective, but it also implements finding connections between both their liberal-arts and business-related focus studies at Brandeis. I personally comply with this emphasis in connecting thoughts because I believe it is important to know the ways in which two seemingly different subjects connect. Not only do I think it is simply about connections, but rather relating their similarities and connections that are also applicable to the real world. In other words, I believe it is important to investigate the cohesiveness that lies deep within different fields of study.
A sunny Mandel Center for the Humanities
The architecturally stunning Carl J. Shapiro Science Center
Now, it wouldn't be fair to leave out the recognition that this school has earned. Thus and so, this school has gained recognition from quite different sources. One of them is the fact that it is ranked #32 by US News Colleges in the National Universities category. Furthermore, it has earned a Bronze award the Mandel Center for the Humanities in 2011. Not so surprisingly, due to the fact that Brandeis is a liberal arts school, Brandeis earned the Award of Excellence for their Theater Arts in 2008. In addition, the school has Pulitzer Prize winners, a Nobel laureate and Emmy Award-winning actors and actresses, broadcasters, and producers. Among these notable actors/actresses are Debrah Messing ('90), Loretta Devine ('76), and Tony Goldwyn ('82). On the other hand, Robert Romasco ('69) is a notable alumnus, who is former AARP president. Furthermore, in the field of education, there is Michael Sandel ('75) Anne T. and Robert M. Bass Professor of Government at Harvard University and, in the field of government and politics, Daniel Shapiro ('91),who is the U.S.ambassador to Israel. Moving on, in the field of science, there is Roderick MacKinnon ('78) who actually won the Nobel Prize in Chemistry 2003. And last, but certainly not least, Brandeis has its three Pulitzer Prize winners, David Hackett Fischer, Eileen McNamara, Yehudi Wyner.
Recalling back to when I knew nothing about Brandeis, I had underestimated it, particularly because it is not quite much of a big-name school as the others we are visiting. However, I have managed to learn quite a few things about it since looking into it! I am quite surprised at the notable alumni and the accomplishments that they have achieved. Not only is it interesting for me to look at the alumni, but the concept of the school, which basically implies the initiative of making connections between liberal arts and other more practical, per say, fields of study. In addition, I was stunned with beautiful architecture and the history packed into their Usen Castle. I am pleasantly surprised and interested with what else Brandeis has to offer. Of course, I will make sure I do my best to stop by the castle, which is, now, my personally favorite site at Brandeis! If Brandeis alone captivated me, I can only imagine what the other schools will have that will do the same. With so many educational options out there, this college research makes it rather more difficult to determine where it is I'd like to pursue my baccalaureate education! For now though, I will go bed, after a really long day of projects, presentation, tests, and other time and effort consuming aspects of today. With that said, goodnight, everyone! Sweet dreams....zZZ...