Today is Independence Day Eve and I have to say it was really great! Unfortunately our plans for tomorrow have been cancelled due to an incoming storm, but to say the least, today was great on its own. The morning routine ran as usual, but today was a turning point in the lab!
As we continued with our lab, we received our plates with bacteria growth back and examined our outcomes. I happened to grow "lawns", or harder to count plates of bacteria, but I was able to make some pretty darn decent plates with the possible glow in the dark (pVIB plasmid) and fluorescently green in UV light (pGlo plasmid) genes. Our next step in the lab is to hypothesize and verify which plasmids were actually absorbed by the bacterial cells actually grew on the plate. To do that, we basically had to sterilely get samples of the growth and mix them into a growth medium (liquid) to be able to interpret our results more easily. Aside from that, today was basically about reasoning and answering questions about the lab. I was initially very anxious because I knew I wasn't at the top of the class with the whole lab work, but once again I made my way and ended with a solid understanding of what and why things happen in the lab. Towards the end, we moved on to the hardest part, which was actually creating a plan in which we have to prepare our own way of finding out which plasmids were actually taken in by the bacterial cells. It may sound pretty scary and complicated, but trust me, I was there; fortunately though, I'm making progress and making much more sense of what'd going on both molecularly and in terms of lab procedures.
You can image that I stayed after class, like I usually have been staying, but you should take a guess at how long I actually stayed today. 30 minutes? 1 hour? 2 hours? Yup, just over 2 hours... I'm very glad and satisfied with those long two hours, though, because I learned so much in them. At first I just followed along to get things done, but after yet another one on one with Jody, I was able to have a clarified understanding of electrophoresis readings, methylations, restriction enzymes, and plasmids (all pretty general-knowledge to many, but quite foreign for me). I even got ahead of them game and planned out how I'm going to determine if my plasmid predictions are correct.
I made it to the V-dub in time, just about half an hour before it would close, and had lunch. I got back to my dorm and had some rest time after a long and very informative extra 2 hours in the lab. Catching up on rest only lasted for a short while as I knew I had to iron my clothes and get ready for our final fancy dinner at The Capital Grille with Brown students, Mercedes Domenech (Admissions Officer), Kisa Takesue (Director of Leadership Programs), and Guy Sanchez (alumnus). I met everyone on time and we all headed towards the restaurant.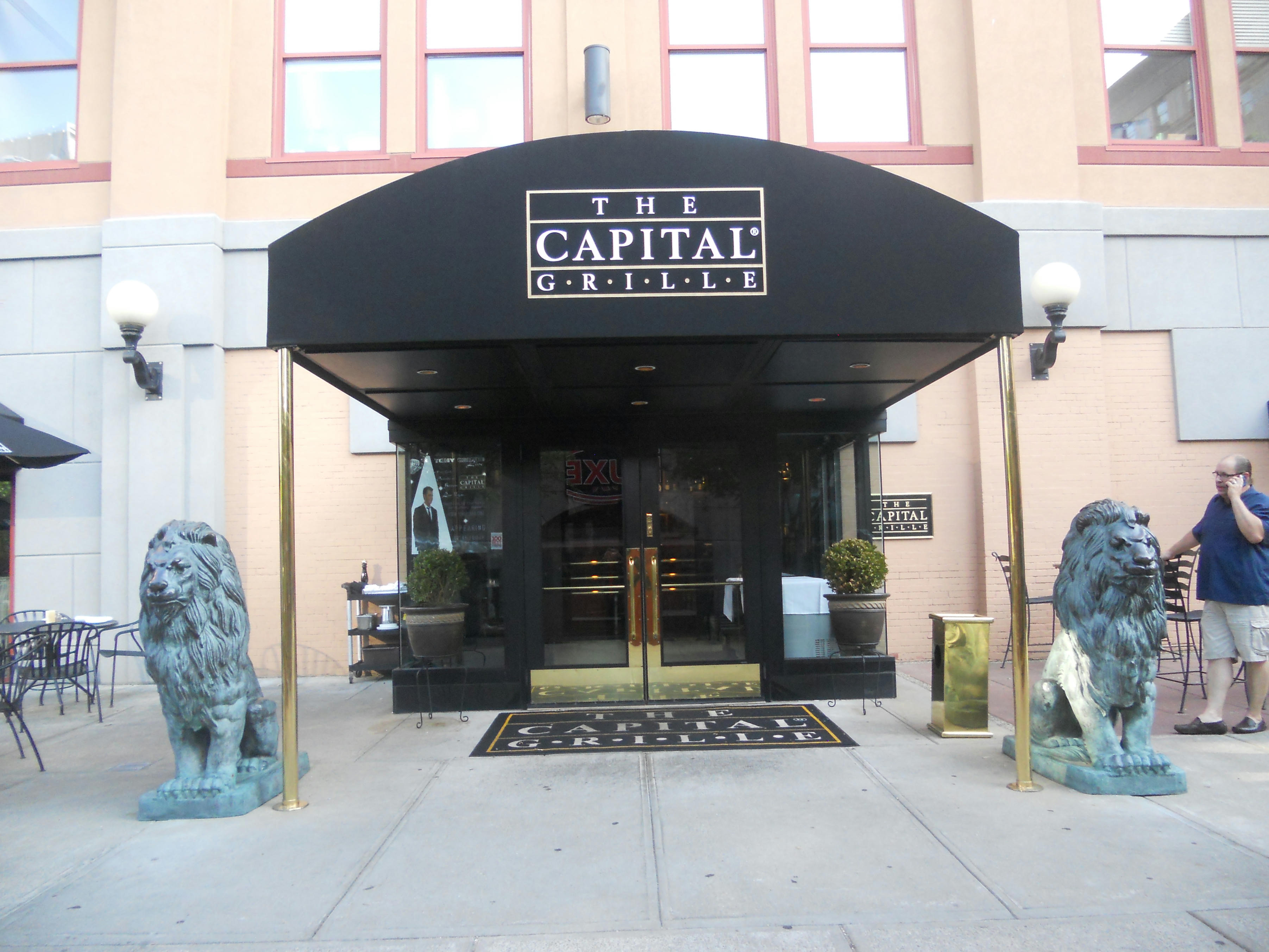 Our restaurant for the evening!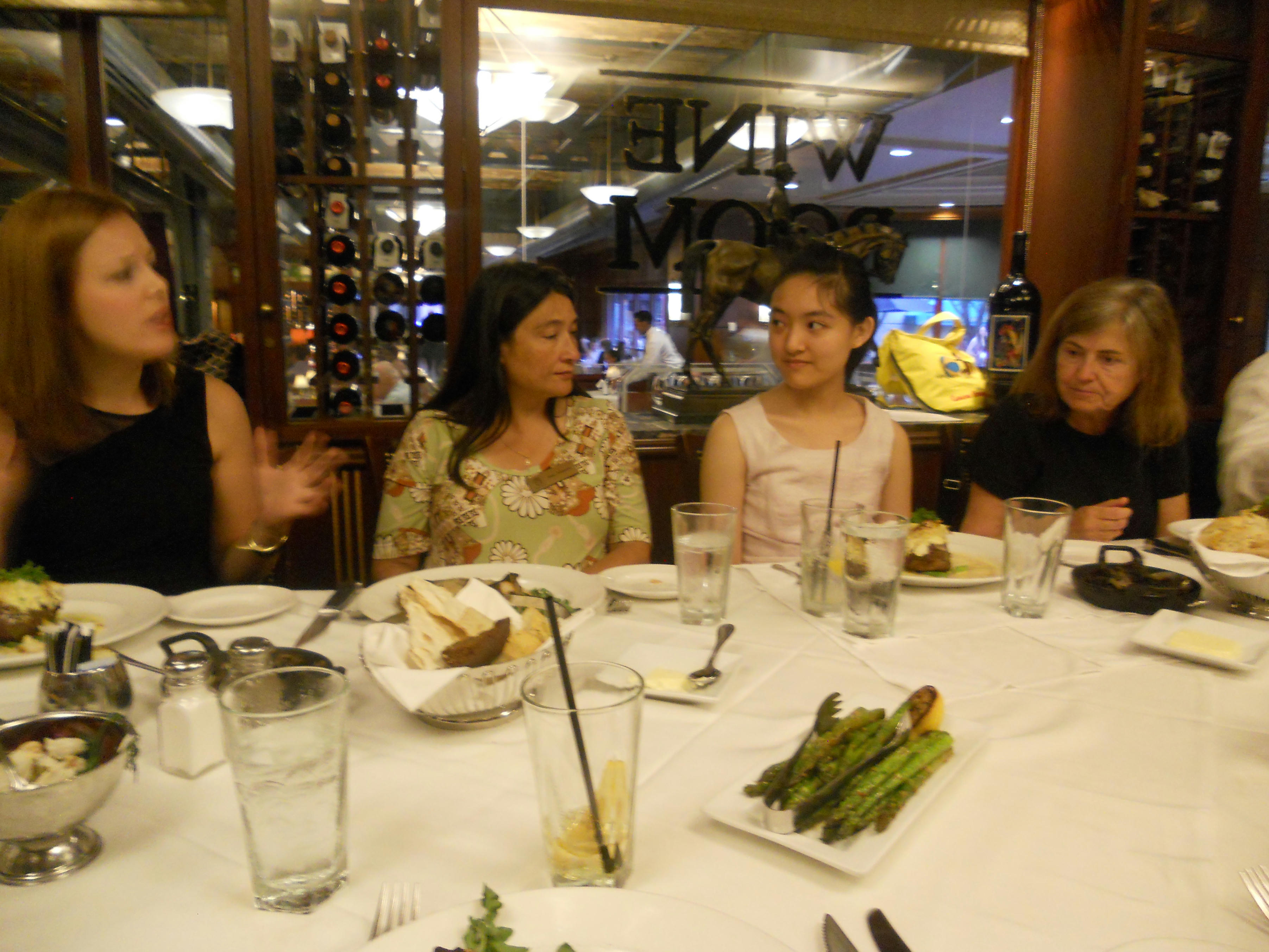 Alana, Kisa, Jing, and Mercedes speaking
Surprisingly, we made it earlier than everyone but soon, everyone arrived and we sat down for our cohort's final fancy dinner. The food was pretty great. We had a Grand Platter, I believe, which was a fresh and delicious variety of seafood including lobster, crab meat, crab cakes, shrimp, fried calamari, and oysters. Simultaneously, we began conversing with one another and getting to know each other better. I found out Richard, who was sitting next to me, was concentrating (majoring) in Psychology. I know I've mentioned that it is one of my interests as of now, but while I'm into that and sciences, I'd also like to take some more liberal-artsy classes, which Richard had actually done. It's another reason to like Brown and its open curriculum. I also spoke with Guy and learned that there was a recent graduate who happened to have the last name Dimas- something I might look into a bit. At Brown, you can be interviewed by an alum, and Guy just so happened to be one of them. He gave us good advice like being personal and yourself, so that was nice to know. I tried speaking with Mercedes too, but it was quite hard to listen, as the room was very busy with so many conversations. I was able to pick up a few things and ultimately switched seats with Guy, who was willing to, and was finally able to talk some more with her and tag along on the middle group's conversation.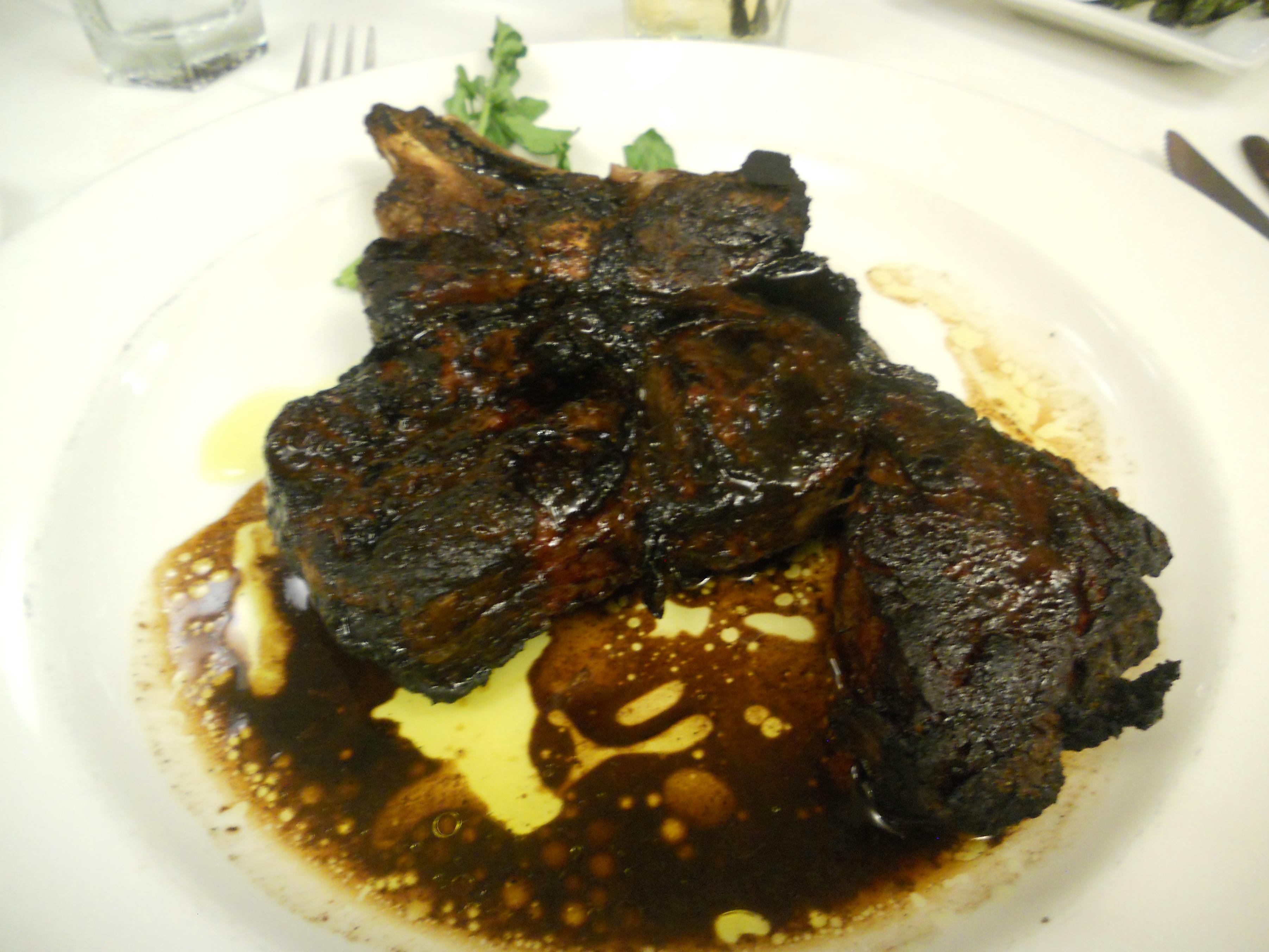 Porcini Rubbed Delmonico
It was a really decent and filling dinner as you might imagine. In fact, many of us, but Jing, were able to finish our food (I'll have to follow her ways so that I can make the most of dinners as well...). After trying everything from the Grand Platter, I had the Lobster Bisque, a very delicious soup, and the Porcini Rubbed Delmonico steak. It was HUGE, and unfortunately, I wasn't able to finish it all. I attempted dessert and had the Vanilla ice Cream with Biscotti. It was smooth, sweet, and creamy, but sadly I could only handle a bit of it. I was full, but satisfied both with the food and speaking to the guests!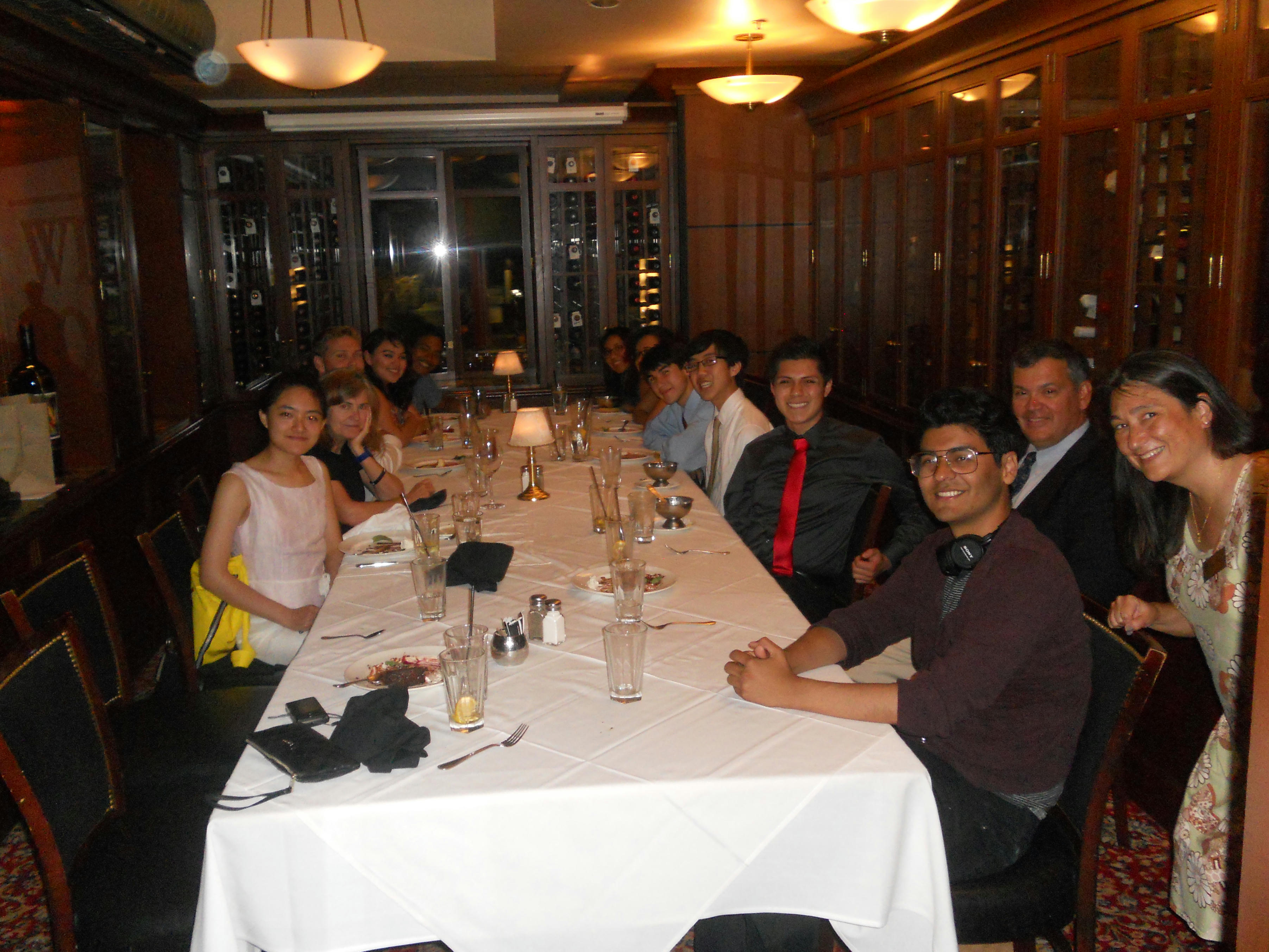 Everyone at our final dinner at The Capital Grille
Tomorrow, we had the Scarborough Beach for the 4th of July, but the stormy weather interfered and it's now cancelled. I'll be able to wake up as late as I want tomorrow, though, on the bright side! We might even head out to Point India Park, if I'm not mistaken with dates here. I also look forward to going to Newport and the outlets during this Independence Day Weekend (while staying on track with my gene therapy project, of course). Again, another long day has come up and now it's only time to keep living each day at a time (but we have to get some sleep in first...!!!) 'Night!