I hadn't actually realized it until just now that I wrote the title, but today was the last day of the cohort's weekends here on the East Coast. Part of the three day Independence Weekend was going to the Wrentham Outlets. I was so glad that we the trip wasn't planned as early as the previous ones, but either way, yesterday's firework show, blogging, and resulting sleepiness kept me up for a while (uploading pictures takes it time too, so with so many that I had to upload yesterday, it took a while. To post them on the blog without them being strangely rearranged is anoher story.) Back to the morning, Brandon and I met up for some Starbucks breakfast while Amulia and Jing, who had originally planned on going, slept in. It was surprising to see not that many people waiting for a bus that would take people to SHOPPING outlets (you'd expect the world to be the first in line). Anyway we boarded and headed out to the outlets.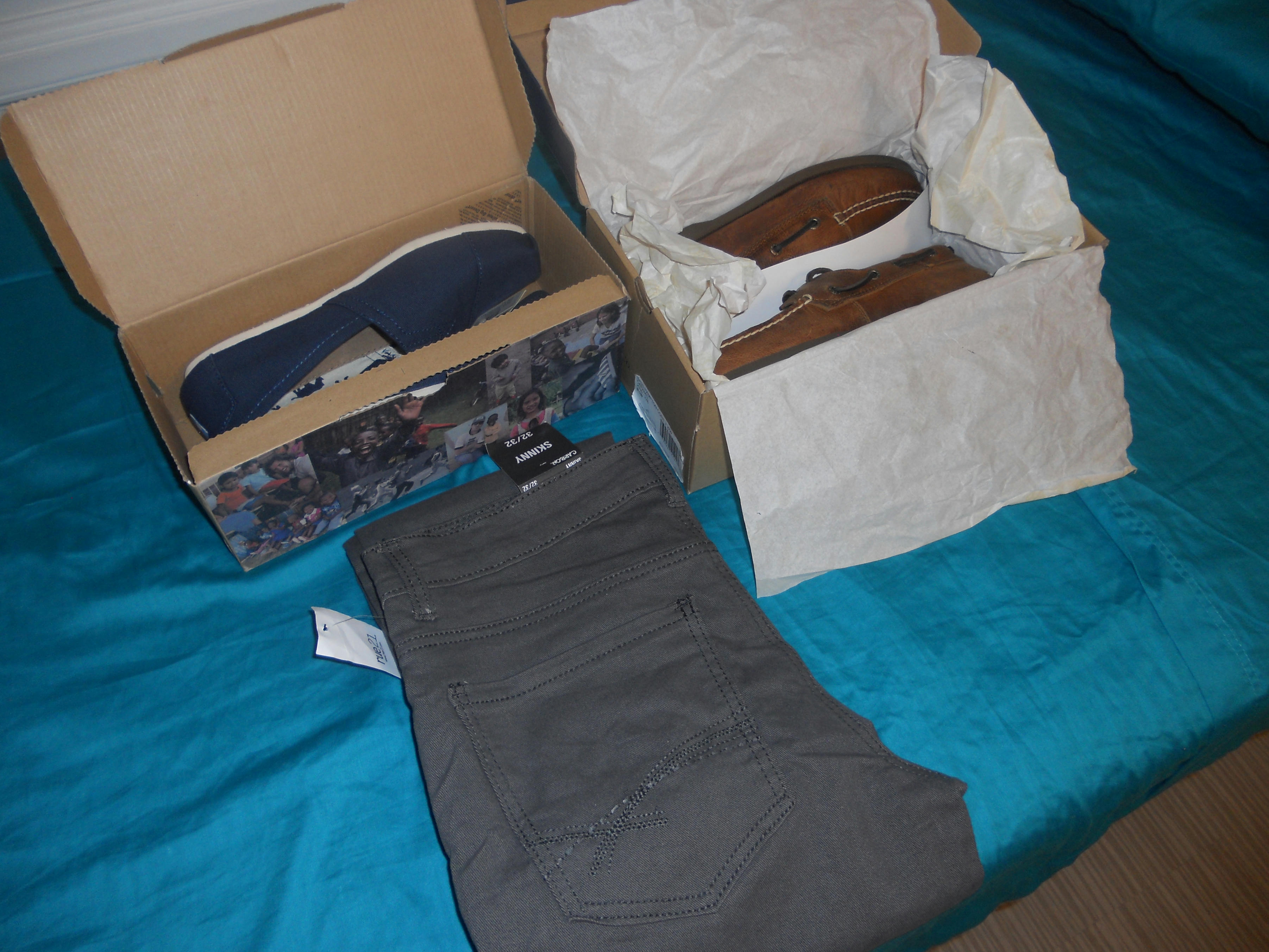 Today's pick-ups!!!
There, the weather was much hotter than it had been at Brown, since the hurricane cooled us down a bit. Despite the weather, I was pretty much set to enjoy my time and hopefully getting some good buys (not yet realizing it was my last free weekend day). Brandon and I went down the long rows of the outlets in search for things like shorts,jeans, and shoes. After having the hardest time finding a good pair of shorts, we decided we'd get some jeans instead. They were on pretty good sale, unlike the shorts, so why not? Brandon ended up buying an outfit while I went with some TOMS, some boat shoes, along with the jeans. The TOMS were $5 less than usual and the boat shoes (which I thought were nearly $100) were at just under $40, so it was a deal you just had to get. We ended the day at the the outlets at the food court. Brandon had some Italian food while I had not the best wrap ever. As the long group of students began to gather outside the food court, we both went to check in and hang out until the buses came. Alas, our time in the outlets was up and we were on our way back to Providence.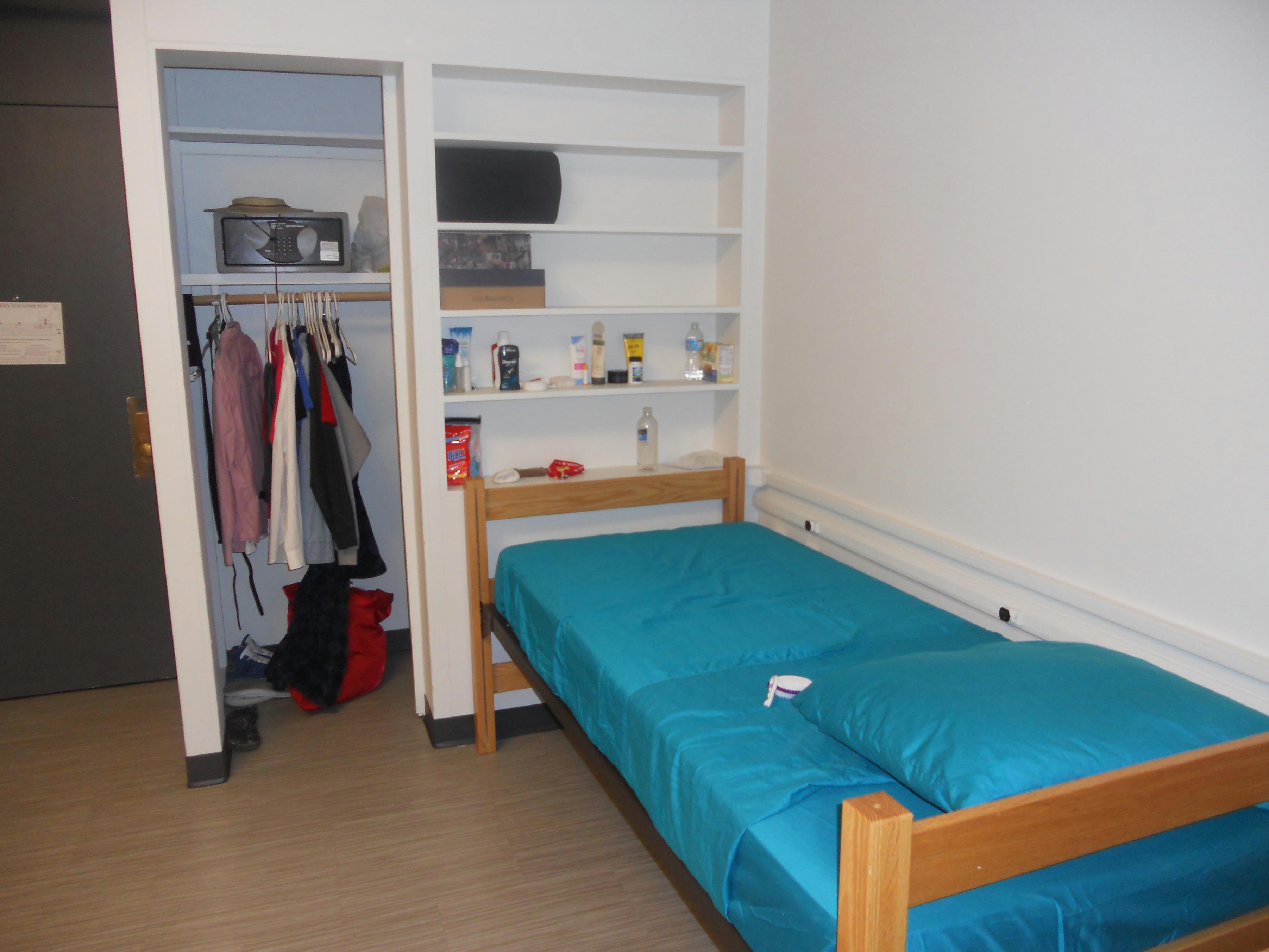 After cleaning up my space in the dorm
Both Brandon and I slip our ways into our dorms, as usual after an activity. My dorm was not the neatest (college life?) and I cleaned it up a bit and made some time to call home and talk to my mom and brother. By that time, I was hungry so I called Brandon up so we could go get dinner. Coincidentally, we saw Amulia and Jing at the V-dub (I'm sure you've noticed we like it better than the Ratty). After a quick dinner of some actually tasty roast beef (or so it seemed like it, or was similar to it) and slice of blueberry pie, we all explored Thayer for souvenirs. Some of the stores we went to were City Sports, Urban Outfitters, and best of all, Pleasant Surprise! There, we saw so many interesting and neat souvenirs there. Among them were inspirational or funny quotes/mantras on wooden boxes, cool pens, socks, things like mood rings, decorated pencil bags, very interesting post-its, horse masks and a lot more weird souvenirs and such! I personally bought a couple mood rings and the inspirational mantra. Next we hung out st Starbucks since Amulia and Brandon wanted to get something from there. We were all very tired and worn our from lots of walking and looking around Thayer and doing our other previous activities throughout the day. Though tired, volleyball was still up to debate, but ultimately it was Amulia and myself who met others for some volleyball time. At the game was Liana and other students. I was able to meet Javier, Dana, Claire, Michelle, Catherine. We played in the dark evening for a fun 30 minutes or so. To be honest, it was my first time doing something out on the grass so that was nice. Sadly enough, everyone had to split their own way and so did we.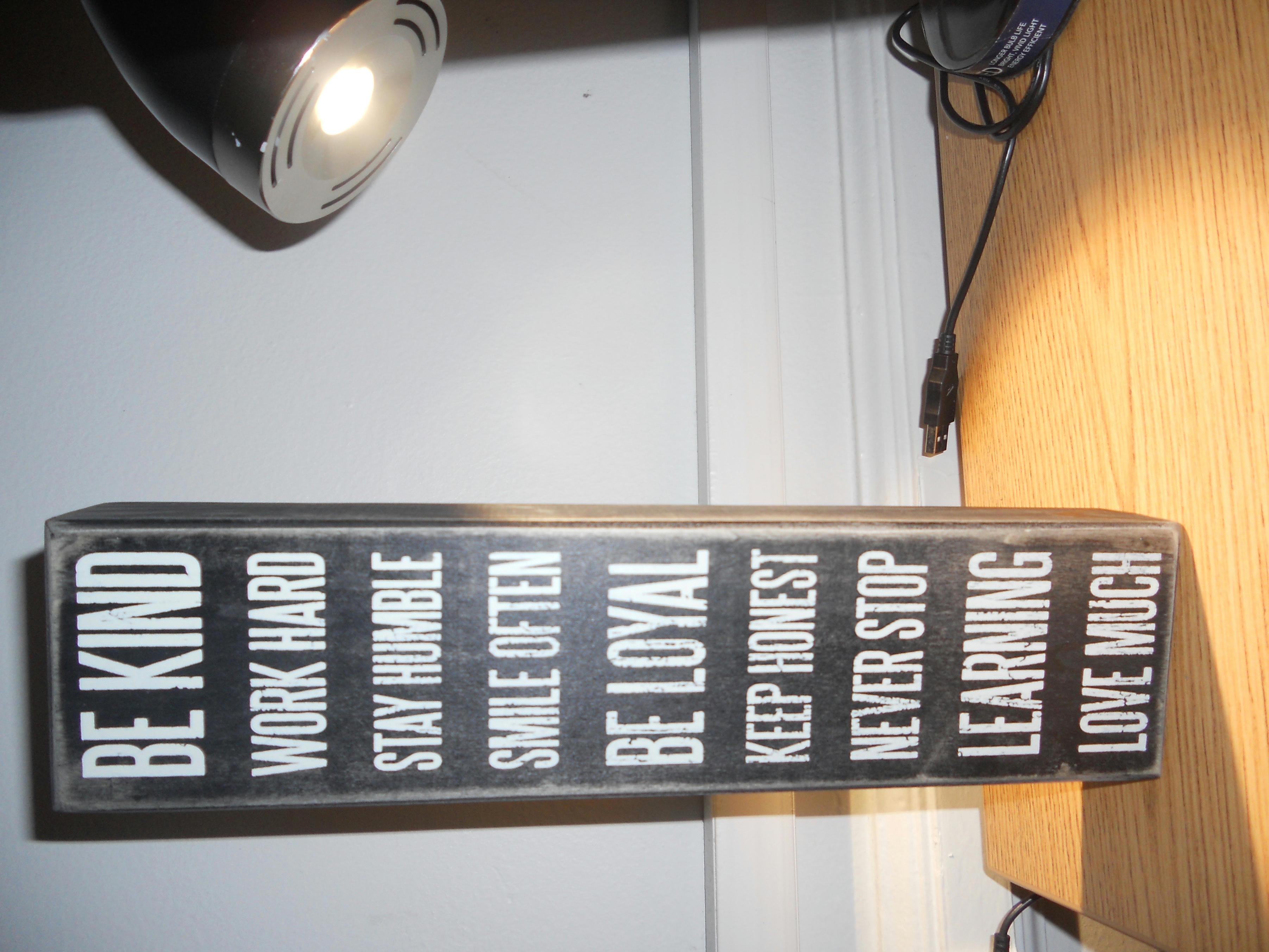 To help keep me going.
It's extremely crazy and unbelievable how quickly time flies. I remember first getting off the plane, into the airport, and then stepping foot on (the most humid air I've ever encountered) Providence, Rhode Island. From there, the long campus tours and hotel days ironically zoomed by in the blink of an eye. I remember staying up until about 3 a.m. with Jack and Kevin just trying to upload all the pictures and get the blogs going. Then, it took about a minimum of 3 hours to blog, but now it thankfully takes a minimum of 1. Yes, it takes that long! I didn't expect it myself until it just came down to blogging time and realizing that this was serious work! Fortunately, though, I feel as I've been able to share my experiences well and provide some insight as to what summer life on the East Coast is like. Fortunately, I've also noticed that being myself a bit more on these blogs and not so serious with it is easier-- and I hope it's carried through! Well, we have one week left here on the East Coast before it's back to Cali and the Bay Area! Tomorrow we will be extracting our own blood to use our DNA as part of our upcoming lab. It should be interesting, but I have to make sure I drink plenty of water and get deep restful sleep! We're all in for a long day tomorrow, so with that, I'll let you guys go! Goodnight!