Everything seemed to have hit us hard yesterday with the all that we've done in these past 4 days. Last night, Brandon and I had stopped by at Jack and Kevin's room to have a blogging get-together, but things quickly went from a blogging get-together to an epic fail. Just as Brandon had finished his blog and headed off to catch some sleep, I stayed and planned on finishing my blog. Unfortunately, and as better stated in my last blog, I happened to fall asleep. I'd like to use how The Fault in Our Stars describes the way it happened, "slowly, and then all of a sudden." It wasn't until I had woken up and had breakfast at Starbucks that Jack showed me how knocked out I was. It was actually kind of funny though, considering that Kevin had knocked out too. Today should be a different though, it is our last night here. It should be fun, but before moving on the the cool stuff, I'll let you guys know today's rundown.
Starting the day off with a quick video of Kevin and myself dead asleep last night instantly brightened my morning. Visiting two different schools on the same day was on today's schedule on our college tours. I think I'll skip past the morning routine, since it's pretty familiar now. Moving towards Harvard expectations, I can say that I honestly had no idea what it would be like. All I knew was that I was going to be open-minded, especially because each pre-conception I've had of each school changed quite a lot after visiting them.
Having Harvard right outside the subway exit was super convenient. I tried to be open minded, though my initial thought of Harvard were that there'd be stuck up students. Meeting our tour guides Eric Hollenberg ('17, Economics major)and Nu Xiong ('17, Sociology major) was a pretty warm way to begin things since they were so amiable, just as all the students and tour guides we have met up with. I had even made an instantaneous connection with Nu, as she had told us that her sister Yi Xiong would be teaching at Richmond High (my school) as part of Teach For America beginning this upcoming school year. It was so funny how there had already been such an unexpected connection there, but either way, Eric and Nu were great tour guides and hosts for the morning.
We began exploring the campus and found out about the most prevalent tradition that Harvard had, which was rubbing the foot of the statue and the entrance. With so many people moving in as part of their Summer Solstice commencement, it was hard to get a chance to do it ourselves, however, we were getting a so-called private tour, which can easily make up a huge crowd any day. We began at the science building and covered the building itself, as well as more traditions, what a regular day at Harvard would look like, and a bit on the academics. Proceeding to the Annenberg Hall, we learned about all of the famous people who had come to Harvard to teach and speak with the students. There were so many names that it was hard to keep track of everyone mentioned. Furthermore, we found out about the history of their library and the underground side to it as well. On our tour, we were able to get a look at the dorms as well and found out that they were all equipped with everything a student would want, such as a gym and dining hall. Eventually, we made our way outside Harvard and into the college town located on the outskirts of it.
A nice view of the campus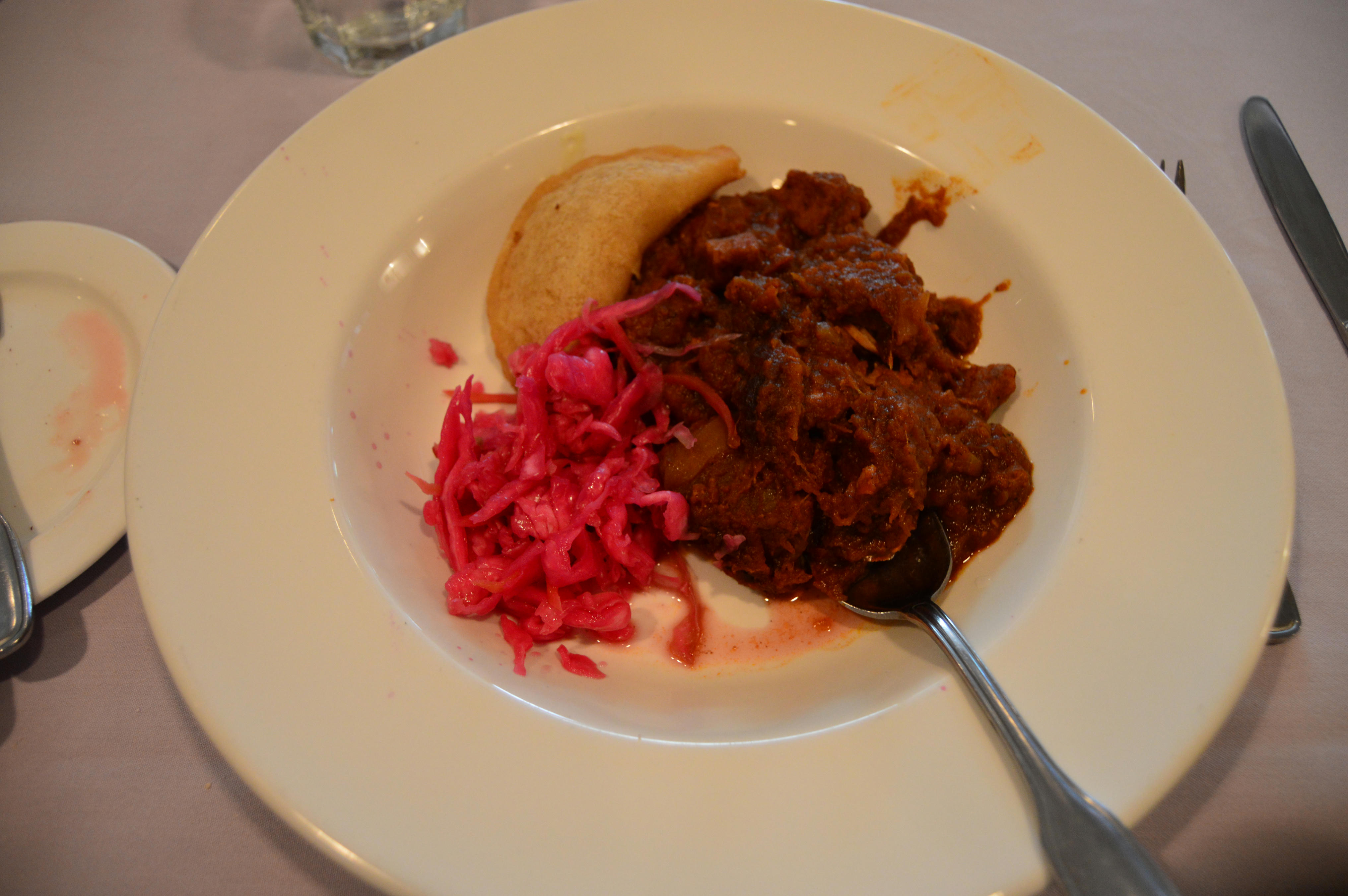 the Pork Chili Jack and I had
It was personally nice getting the feel of the busier atmosphere of the town, since the college itself was pretty laid back within its boundaries. I was beginning to feel as though I had underestimated the atmosphere, which I now realized I did. One of the stops there, which I kind of would have liked to stop by was Pinocchio's. The students had told us that it was the best pizza place around and that even Mark Zuckerberg would go there very time he'd visit Cambridge. Our nice short walk came to an end after making it to Henrietta's Table. there, we sat down for a nice lunch where we conversed with both Eric and Nu. We started of with a summer-like salad and corn chowder along with some bread and butter. As we awaited our entrees, we began talking about the admissions process, ways to transfer ourselves onto our personal statements, and Harvard life in general. I found it to be so interesting to sit down and talk to them, particularly because it was so natural to carry on the conversation with the entire group. Our entrees were ready and we quickly dug into them. Amongst our entrees were the Halibut, Memphis-Style BBQ Pork, Stratas, and Chicken Breasts. Continuing the conversation, we spoke more on the previous topics and before I knew it, I realized that it was the last day we'd be able to sit down at a dinner with college students and talk to them regarding college applications, college admissions, and college life. Alas, we got to the end of out Angel Food Cakes and Maple Panna Cottas and understood that oiue time at Harvard had come to an end. I was actually really bummed because though Harvard didn't become a strong consideration in my personal case, the cohort's lunch with them was exceptionally wonderful! We sadly made our goodbyes and finally moved on to our next stop in our packed schedule.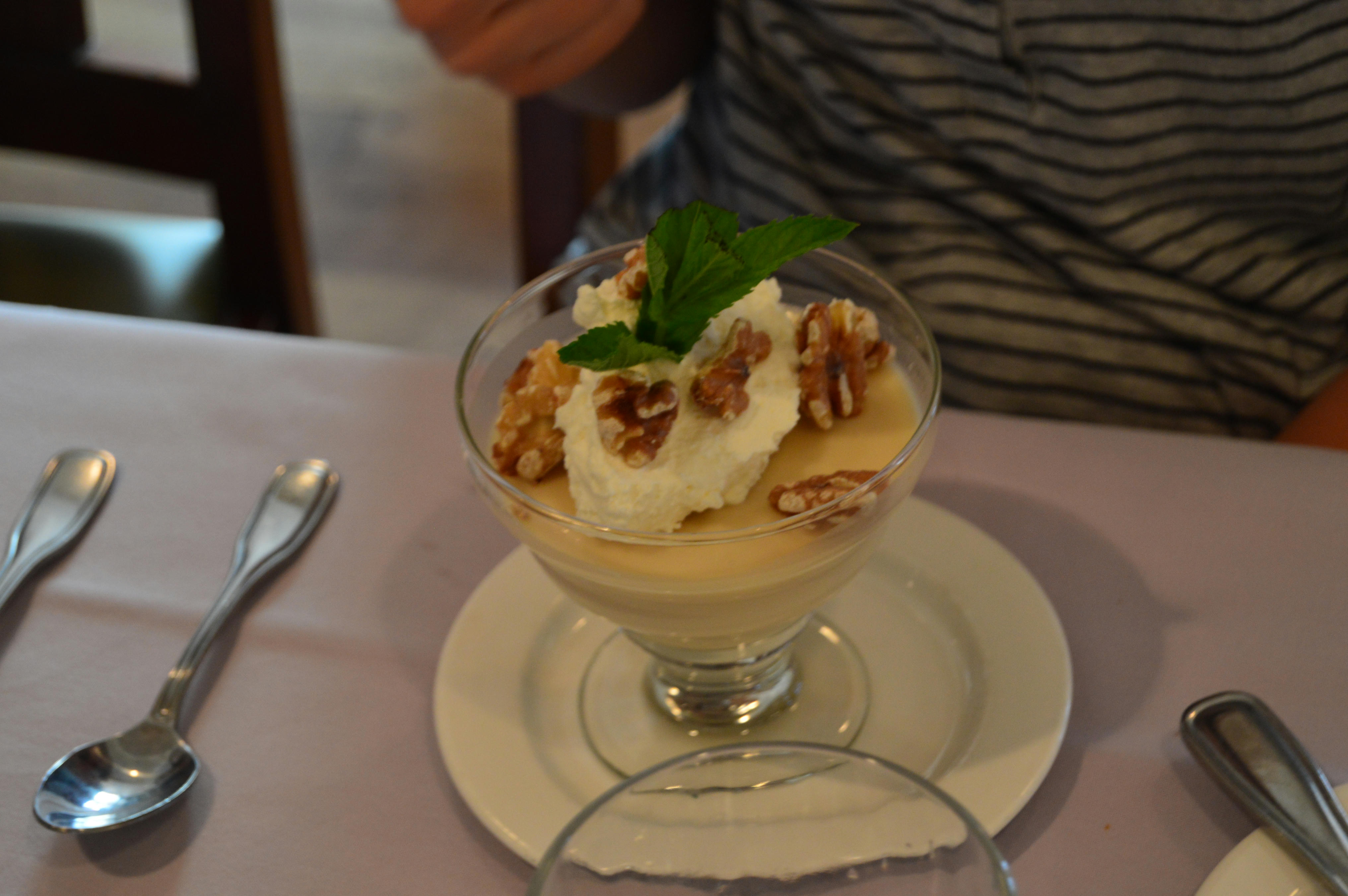 Maple Panna Cotta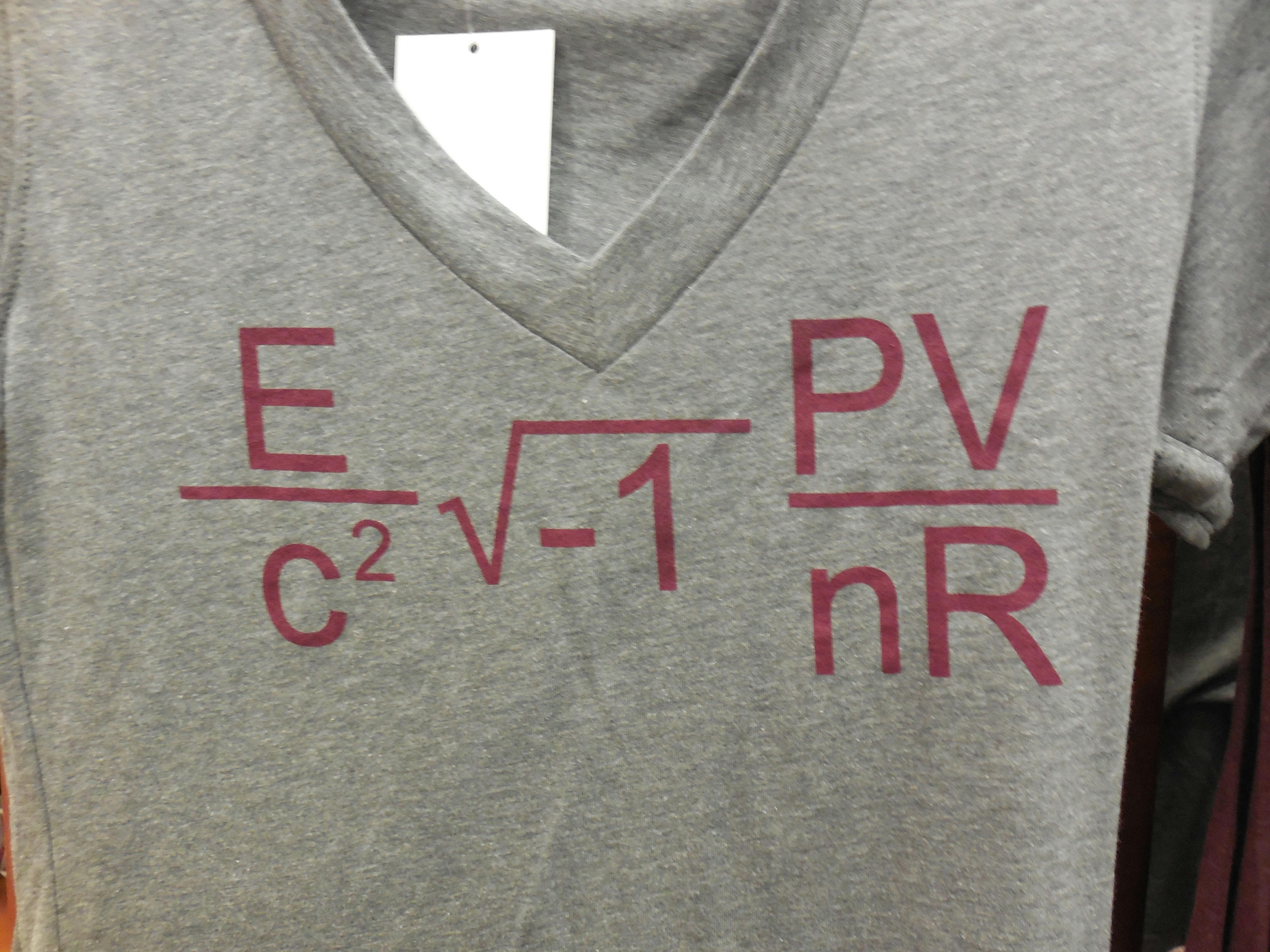 See if you can decipher the code... (cough cough, name of school)
We made it to the subway again to make it back to the MIT stop, where we met up with Megan Cherry, a recent graduate of MIT ('14, Chemistry major). There, I had the same concept as Harvard- keep an open mind. The intensity of the school was a great thing, but it was quite intimidating as well. I actually loved how they have a focus in problem solving in certain things that haven't been solved. The architecture, aside from the academics, was really great too, as we were able to experience walking through their underground tunnels and coming across some unique buildings. I actually enjoyed the tour and getting a glimpse of the community at the school. Sadly enough, I wasn't able to take pictures. My camera's battery had actually died yesterday so I hadn't had much time to charge it and the extra battery I had with me apparently failed on me. Thank we have Jack and his pictures, as well as the picture Jing and Brandon provide to the table. I think that's what I like about my cohort. It's the cohesiveness in the way we work together hat makes our cohort functional. Aside from the topic a bit, it's super funny how I'm the one who tends to drop things, Jack's the one to forget things, Kevin is known for his extensive questions and "moments", Brandon is very observational, and Jing is the quite one as well. Seems crazy but it works out for us.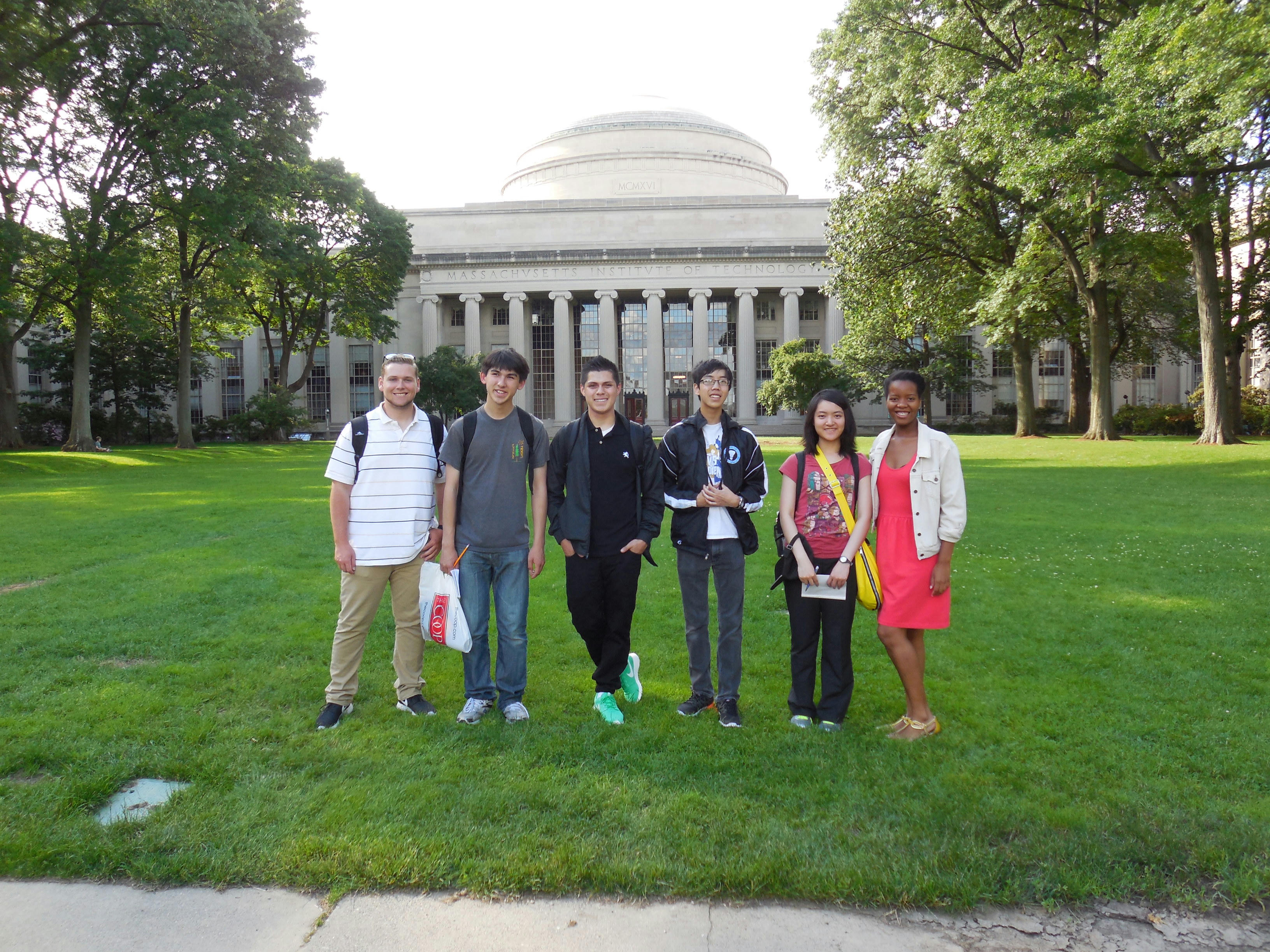 At the MIT Great Dome with the cohort and Megan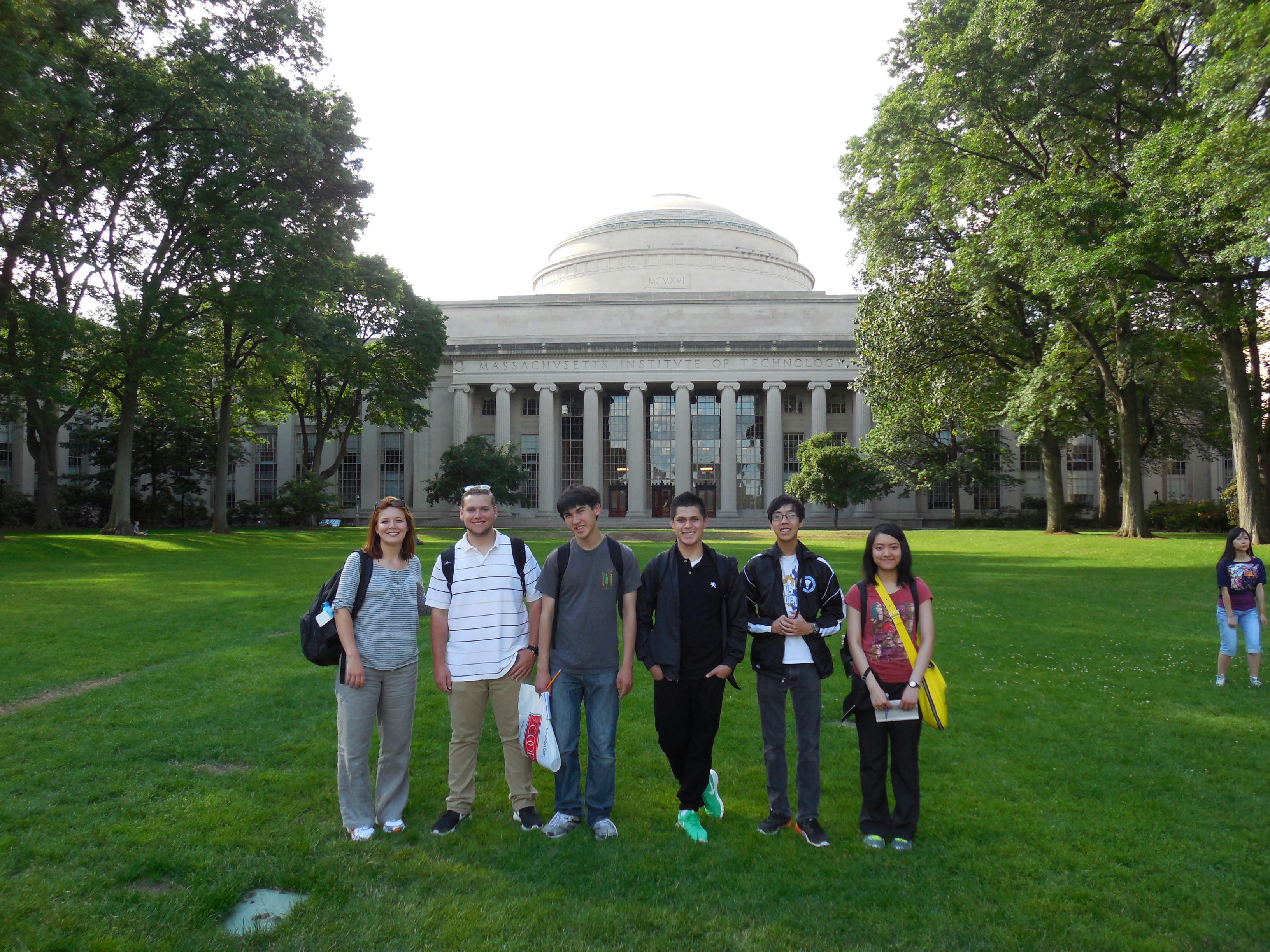 It began to get a bit late so we rushed out onto the Red Line, making our way to catch our AMTRAK train to Providence once again. We were deciding on where to go for our last dinner as a cohort of our college touring days and came to the unanimous decision of The Melting Pot. I wasn't exactly fascinated about the idea of melted cheese, but I was definitely open to the food. How could I let go of all of these dining opportunities!? There's no way I'd slip away from something new, like the Hiramasa Crudo (which was raw), the escargot (which initially wasn't appetizing), both og which were much better than I thought and quite tasty for the most part. Anywho, it was also a bummer knowing our last fancy/decent eating day was here before we'd make the transition to dining halls. Fortunately, there was no wait at the restaurant. I was instantly excited about having the two stoves at the table, though, which reminded me of a similar eating experience on my SoCal College Tour during Spring Break this year.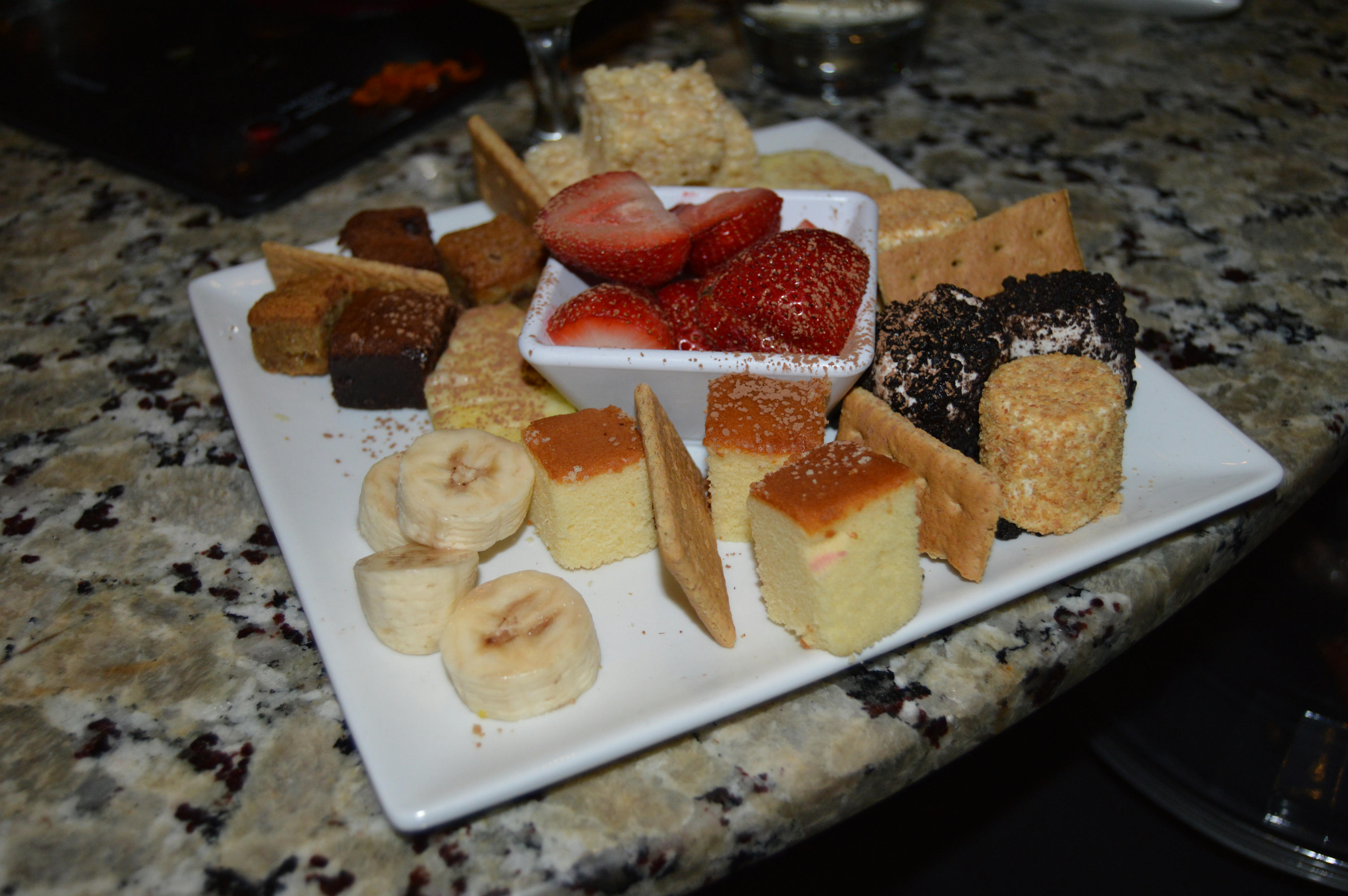 for the chocolate fondues
We decided we'd have the 4-course meal. We began with the Cheddar and Alpine fondues for the fondues, the Pear & Gorgonzola and House Salads for the salads, and the Fondue Fusion (cold Lobster tail, duck breast, Memphis BBQ-style medallion, and dumpling) and the Pacific Rim (duck breast, beef tenderloin, pot stickers, garlic shrimp, and a cold lobster tail on the side as well) for the entrees. Everything was so unique as we were able to cook them Mojo and Coq Au Vin-style and were given us a few sauces and dressings to pair eat of the items up with. Everything I had was delicious and in a way more familiar, whcih was kind of an escape from all of the super fancy dinners. It was then finally time for desert! We chose the Dark n' Dulce and S'mores Chocolate Fondues. To pair it up with, we had banana, strawberries, pineapple, blondies, marshmallows, Angel Food Cake and Rice Krispies treats. It was even cooler as we watched our awesome waiter and host, Andy, flambe the S'mores fondue. I tried to mix and match everything, but as the meal was coming to an end, I began getting quite full. I didn't let that stop me. I slow and steadily made progress in enjoying those heavenly bites of dessert and our dinner then came to an end.

I don't want to seem as though I'm complaining, but these daily packed schedules are just crazy! They hardly allow time to relax, but in either case, they do somewhat help me personally work on time management skills, something I've been having trouble with. All I can think of right now is that I'm so glad today has finally ended all of the crazy jam-packed schedules! The group and I will FINALLY be able to work more at our own pace and get the experience of a college life. Thankfully, tomorrow we will be leaving at 9, giving us sometime to catch up on this insufficient sleep we've been experiencing. All I can say is that tomorrow it'll all hit us. We well all be separated into our own dorms and be thrown into the brown dorms, where we'll further be able to develop on our academic independence. I'm sure that our group will continue to stick together. I wouldn't like to leave my cohort behind with all these awesome memories we've been having and all the bonding we've come to develop. All in a day's work of an ILCer. After a long and newly strenuous day, I'll get going with some of that sleep for tomorrow! As I write this blog, I'm nearing the end of a page. Tomorrow will be the start of a brand new one.