Waking up today, I couldn't tell whether I was tired from waking up at what would have been 2:45 AM at home or whether I just had a lack of sleep. Although it didn't show through my fatigued expression, I was excited for our first campus visit. We took the Amtrak train from Providence directly to New Haven after walking to the local station in Providence. We arrived in New Haven approximately two hours later.
Upon arrival, I could really feel the humidity. The train was air conditioned to a nice, comfortable temperature in which I could easily sleep in, but outside was something else. It wasn't exactly burning or hot as there was a breeze that made the climate chilly, but at the same time the moist air was so warm that it made my skin feel sticky. It made me think about the drier conditions at home and hope that I would quickly adapt to this new area.
After we got out of the train station, we called two cabs to bring us to the Corner of Grove and Prospect, where our Yale adventures would begin. We separated the cabs between Arnold, Kevin, and I and Ms. Scott, Jack, and Jing. In the taxi I went in, we had a brief conversation with our driver, Wes Stowers, about the classical radio stations and his son who is actually in San Francisco performing gigs with his band at the moment. After tipping our kind driver and meeting up with the other half of our cohort, we decided to look around the area for breakfast. We found a place called Wall Street Pizza & Restaurant. There, we each ordered our breakfasts. I opted for a smaller breakfast as my stomach was still a bit upside-down from yesterday's plane ride and simply ordered a plate of French toast. There were two slices of toast each split in two along with butter and maple syrup. The meal was delicious and melted in my mouth, but it was a shame my stomach didn't want to take all four pieces.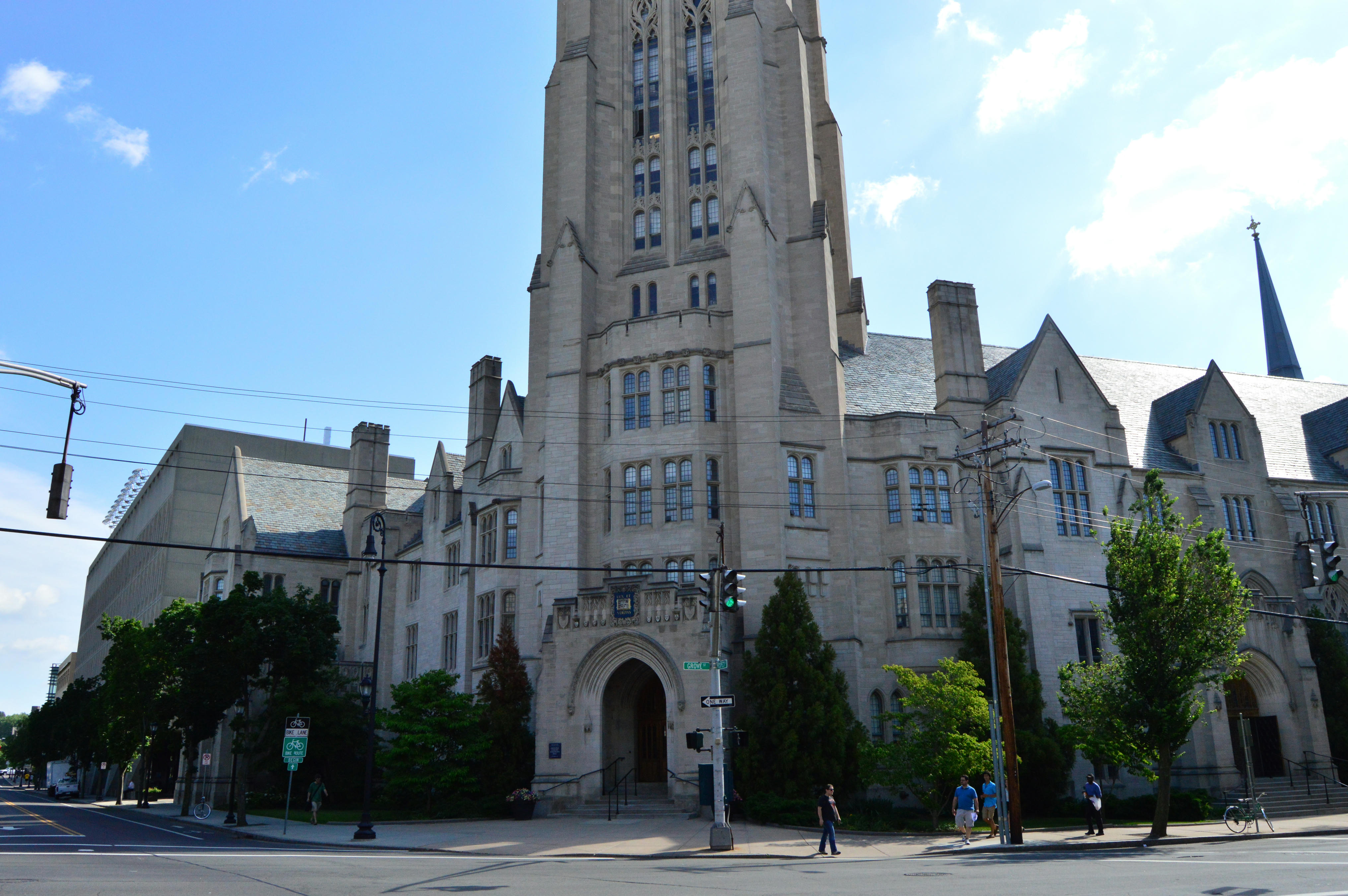 The SSS Hall
Following our breakfast, we went to the Sheffield-Sterling-Strathcona Hall, or SSS Hall for short, for the info session and campus tour. Before the information session began, we had the honor to meet with Admissions Officer Dara Norwood. Ms. Norwood atten
ded two different Ivy League schools and also is in charge of the California region when looking over applications. Each of us asked her questions regarding the campus and the admission process and we were each given clear, detailed answers. After the brief Q&A, we all headed into the seminar room for the info session. The information session began with the Youtube famous "That's Why I Chose Yale" video that put all of Yale's qualities in a fun, short presentation in song form. Ms. Norwood then gave her Yale presentation explaining things such as Yale's many, unique majors and programs, the "shopping period," and the "Harry Potter-like" dorm systems. When she opened up for questions, Ms. Norwood answered each question with ease as if she rehearsed and knew every inquiry ahead of time.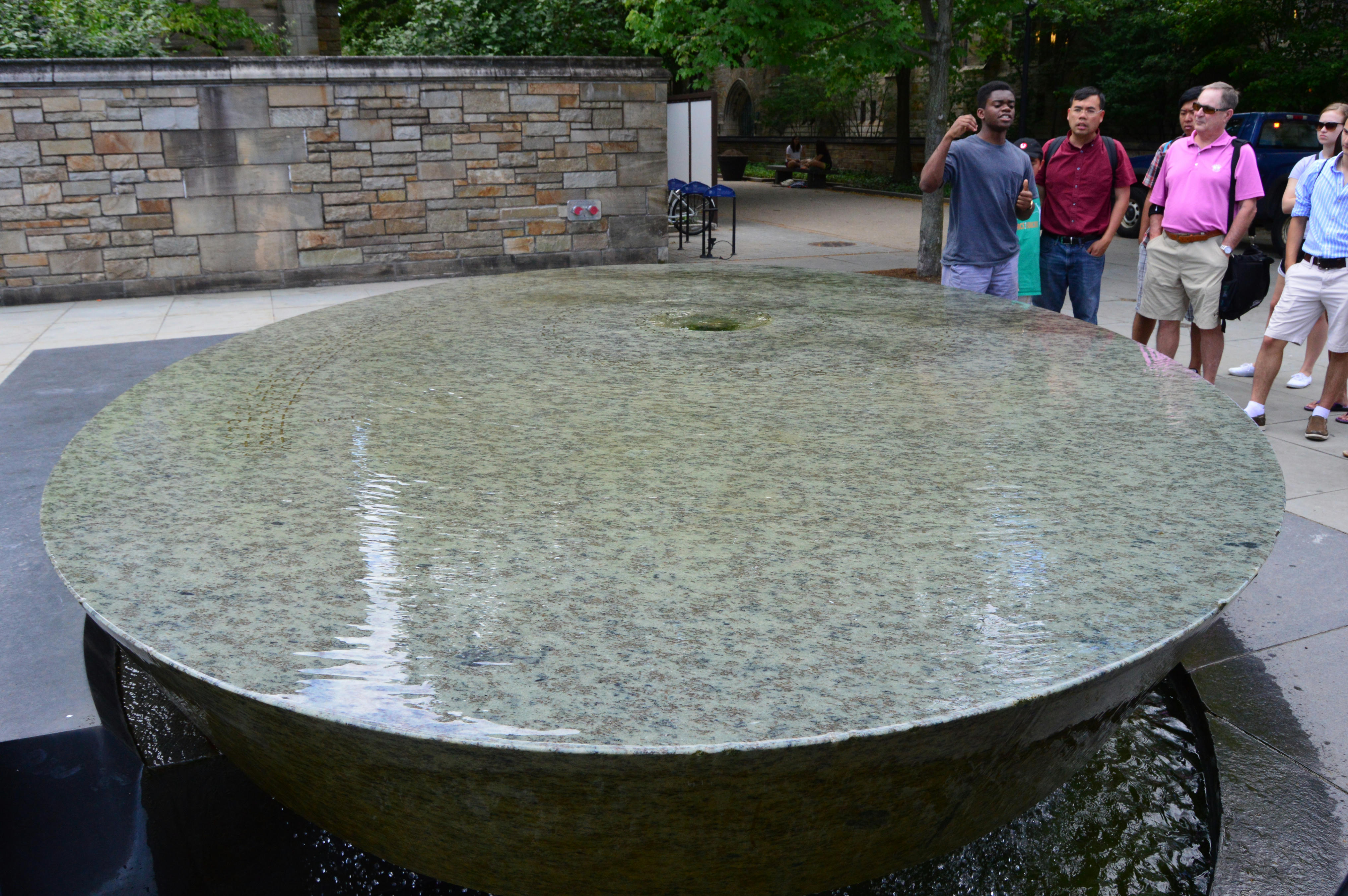 The Women's Table



The tour came after the information session. Our tour guide was a charismatic rising sophomore, Jordan. He guided us through the history and background of many of the buildings and monuments on campus, including the Women's Table and the statue of Theodore Dwight Woolsey. An interesting fact about the statue is that students rub the statue's toe for good luck when things such as finals or tough exams are coming up. I was lucky enough to be able to rub the toe as well. I hoped for a safe rest of the trip here in the East coast as well as luck for my college applications in the very near future.
The tour concluded at the Old Campus after which we were guided back to the SSS building. There, we met with two Yalies from the West coast. The first student was Austin Long, a rising senior who is also an alum from what is considered the sister school of Hercules, Pinole Valley High School. The second was Xuan-Truc Nguyen, a rising junior from Southern California.. The last addition to our party was James Ting, another rising senior from New Jersey. All three of them were engineering and science majors, with Austin being a double major in chemistry and social sciences, Xuan in mechanical engineering, and James in biomedical engineering. This was great for me because I was thinking about pursuing a science or engineering major in the future, but I could not decide. I asked the three what made their majors unique and great, and Xuan told me about how colleges sometimes offer courses that go over each type of engineering, so I could take one of those to help me decide before I declared a major in college.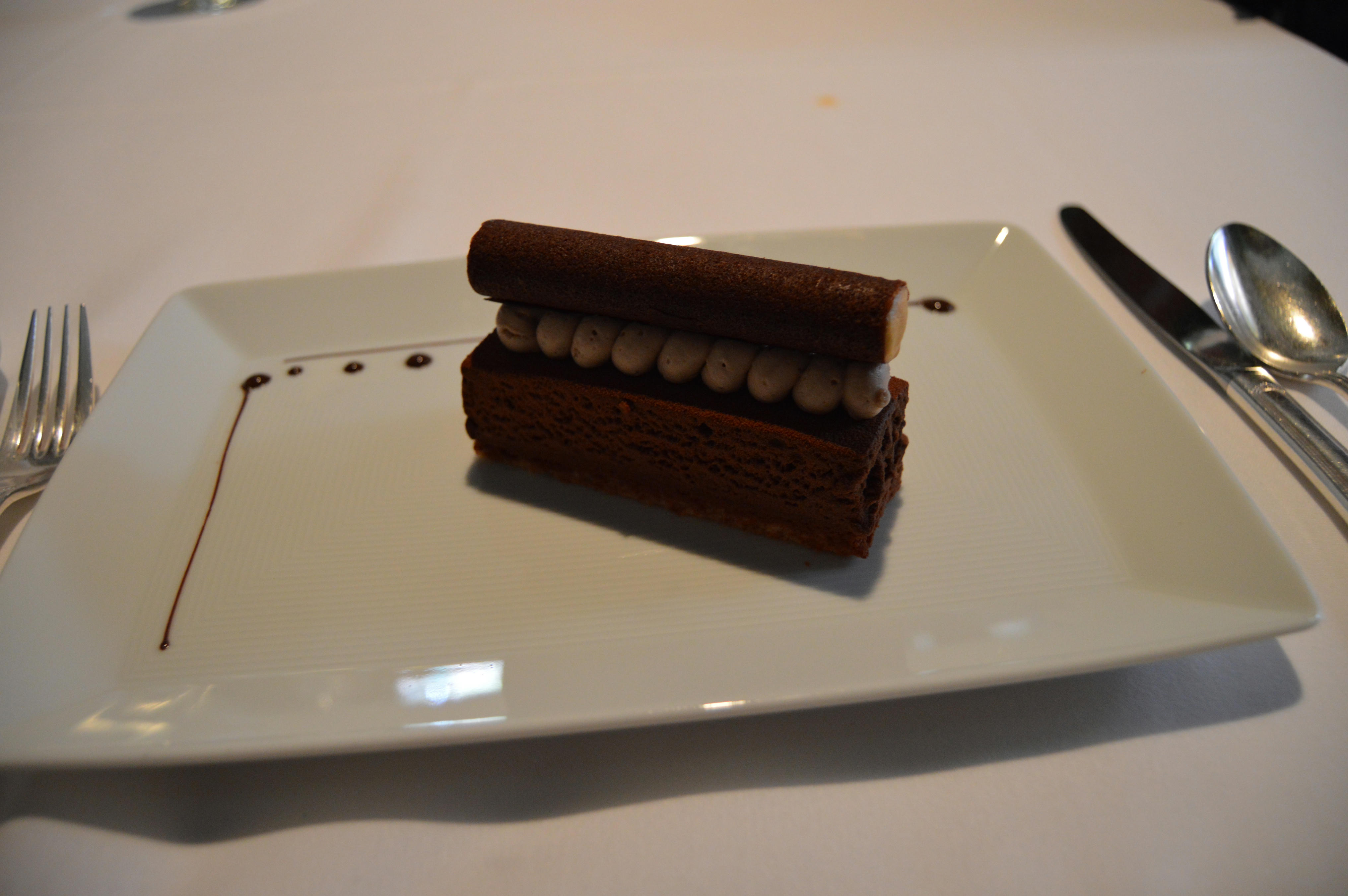 Feuillentine
As for the lunch itself, our reservations were set for 2:30 PM and we met with Austin and Xuan at around 2 PM, giving us some time to walk around Chapel Street and check out the Yale Center of British Art. Afterward, we met with James in front of the restaurant, The Union League Cafe. We were the last customers for lunch there, so the restaurant was conveniently quiet for us during our stay. We started with appetizers of bread, duck liver, and mussels. For the meal itself, I ordered an Omelette Homardine (omelet with lobster) and a Guadalupe (pineapple-based drink). Both were extremely delicious, with the eggs melting right in my mouth and the Atlantic lobster amazing my taste buds. For dessert, we ordered cheese plates and I ordered Feuillentine, a chocolate cake with a roll on top complim
ented with cream. Besides the food, our conversations with the students were really comfortable and enjoyable. The students were really easy to relate to and they shared humor similar to ours, likely because two of them came from the West coast and they are still young like us. They also told us about the different clubs and activities at Yale and gave us advice for the future such as telling us to try a lot of different things to find our niches. After the lunch we said our goodbyes to the students and took a shuttle back to the train station where we would go back to the hotel for a good night's rest.
The visit to Yale helped me realize that Yale is more than just a name. Yale can be seen as a lifestyle. The university helps its students succeed and the community is great. Although it is the only school we have visited so far, I can say confidently that Yale will likely be my favorite school, but we'll see. Tomorrow is our visit to Dartmouth with a long trip there and back, so sleep will probably be nice soon, so I'll end this blog here. Did I also mention that this hotel has been rumored to be haunted?