Today was a bit different from the past days. To begin with, thank God we were able to have a couple more crucial hours of sleep. Secondly, today's visit was actually not to an Ivy League, but instead something different. We began the day with slightly more sleep than the past few days, and followed the same daily routine- getting up. getting ready, meeting up, and heading off. As I said, we had visited a different school. Our visited school today time is still a private institution, with the exception that it has a strong liberal arts focus with a simultaneous strong focus in research. Today's visit was BRANDEIS.
Our transportation to Brandeis was actually different as well, part of the ride was through the Massachusetts Bay Transportation Authority (MBTA), the Red Line (subway), and MBTA's commuter train. The rides were pretty decent. I particularly enjoy how the MBAT has lots of seating space, and then I like it because of the available Wi-Fi as well. The subway isn't exactly the best. The subway is probably more well known, but particularly for those of you who are familiar with BART in the Bay Area, this is almost the exact same thing. It was pretty fast paced and just a bit crowded, as far as incoveniences. Pretty basic, but anyhow, we ultimately made it to our destination safe, sound and pretty orderly, so anything like Wi-Fi and comfort is kind of a luxury to me.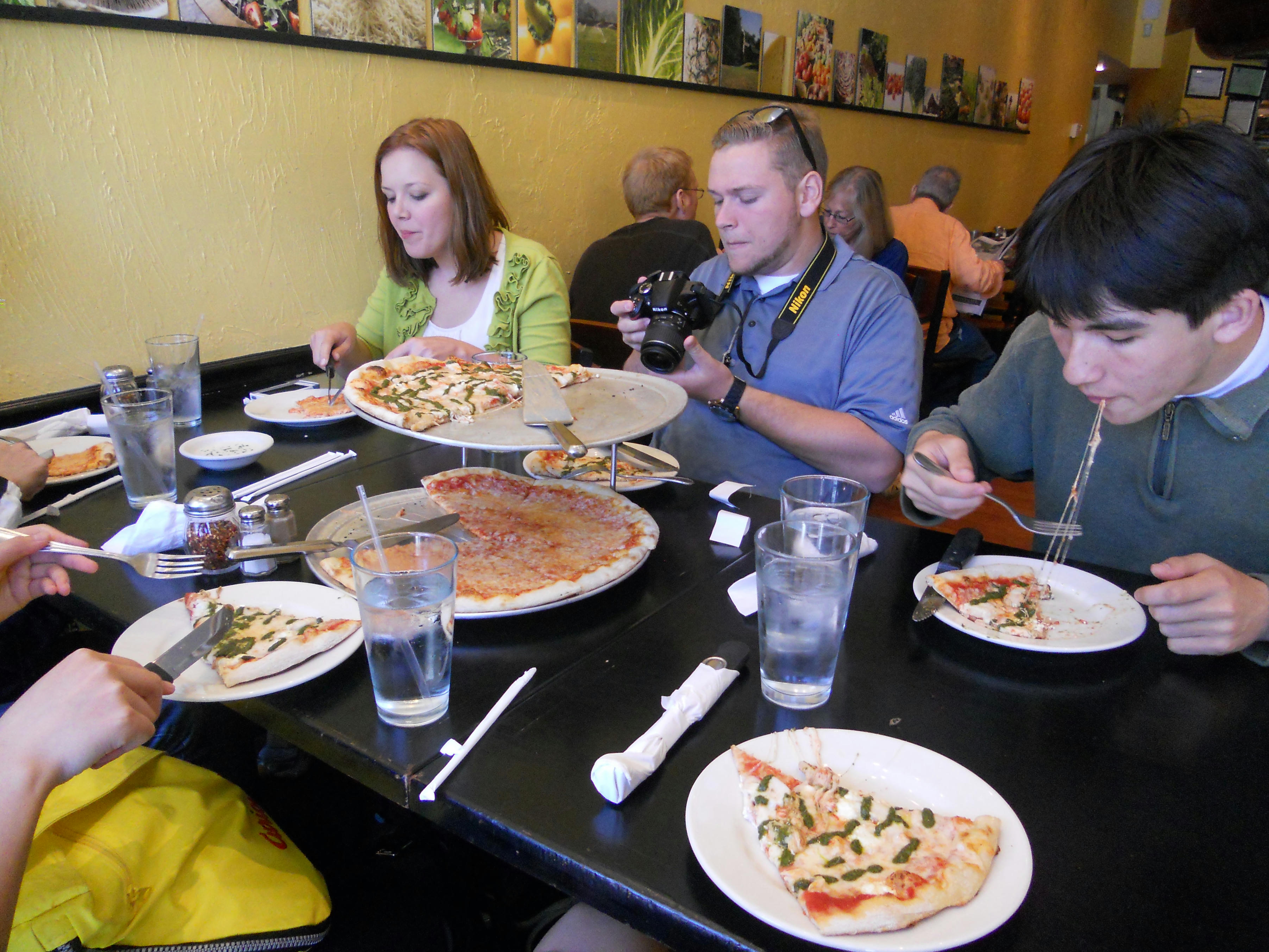 A decent pizza lunch
Lunch was pretty brief, but pleasant. We tried out Stone Hearth Pizza Co. for some pizza. We decided we'd have some Cheese Pizza as well as the Chicken Pesto Pizza. The cheese one was okay, but the Chicken Pesto was pretty awesome. That was the first time I had tried pesto in the first place, so I thought it was pretty cool trying something new and loving it! To make it a bit more interesting, we had some blue cheese dressing, another new additions
If you guys might have read from the earlier blogs the cohort has posted, you'll see that each of us researched and blogged on one of the colleges we'd visit. I personally researched and blogged about Brandeis (flashback Friday...). As a refresher, though, the school was founded in 1948 as a private liberal arts institution (not an Ivy League, though). It was actually built as a school meant to be inclusive for everyone, intending to allow the opportunity of a top quality education for all those deserving of it, but who weren't given the opportunity to. Behind the rich history of this school was the fact that in such case, this school pursued and believed in social justice. In fact, it was named after the Supreme Court member, Louis Brandeis. In addition, its top research is reflected by the fact that Albert Einstein was actually a professor here. Furthermore, Eleanor Roosevelt, Martin Luther King Jr.. John F. Kennedy, Pete Seeger, Leonard Bernstein have also had their attributions to the school. In retrospect, Brandeis a school of excellence with very profound positive intentions from the beginning.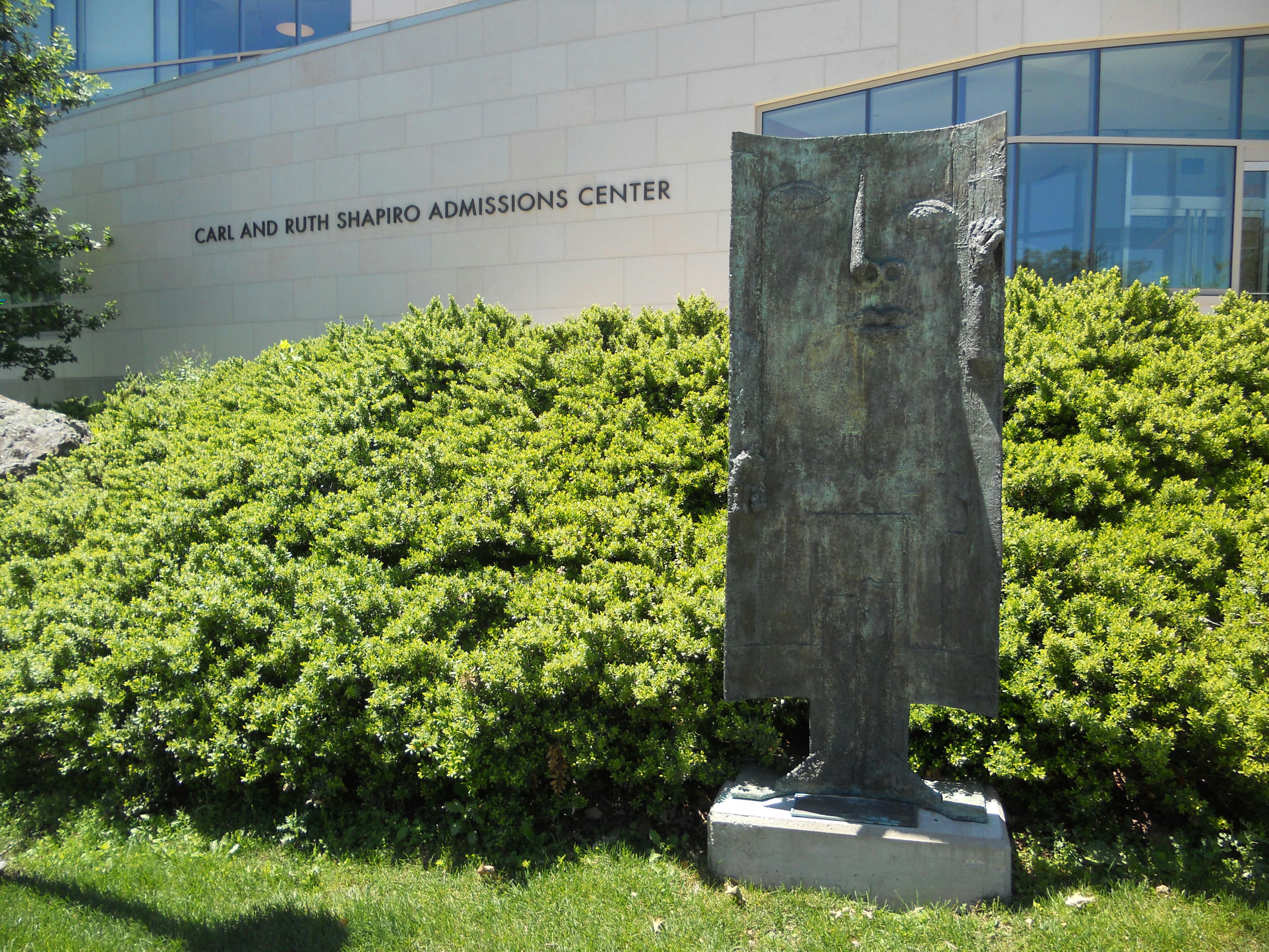 Shifting towards the beginning of the day at Brandeis, we met up with Associate Director of Admissions, Ms. Marina Offner. Though suggested to attend the informational session, we decided to stick to Ms. Offner- a great decision! It was very comfortable sitting down talking to her and having her answer our questions! She began with the history of Brandeis, shortened a bit up above, and we proceeded to questions about the community, excellence. opportunities, and of course, admissions. Part of the admissions process that makes the Brandeis community so diverse and united is that Brandeis looks for people who are unique. Though grades, and self-challenging yourself are valued, it is very important to ensure they can recruit a passionate, hard-working, and excelling group of diverse individuals. Important to the admissions process as well was the fact that you have really do have to be interested in the school. No one likes to be rejected or overlooked, and Brandeis is no exception as a school. They want to make sure students who are interested will actually commit to it and, as a result, it is important to show interest. This can be though visits, interviews, making interactions or contact with the faculty. We Brown-I cohort members were privileged with the opportunity to visit a school with undiscovered potential (well, for me at least). As far as the applications, though, there were a few ways to apply. You could either submit 1) SAT and/or ACT tests, 2) A paper correction by a teacher as well as teacher recommendation, or 3) A combination of (or not) of three AP or SAT-subjects tests, as long as they're ALL distinct subjects. So just in case you didn't do as well on some things, you are still able to showcase your achievements in your stronger subjects. Though I'd done my own previous research, I'm really glad to have the newer information our cohort and I were able to get through the visit, with special thanks to Ms. Offner. As a result, I think this school is potentially one I'd apply to.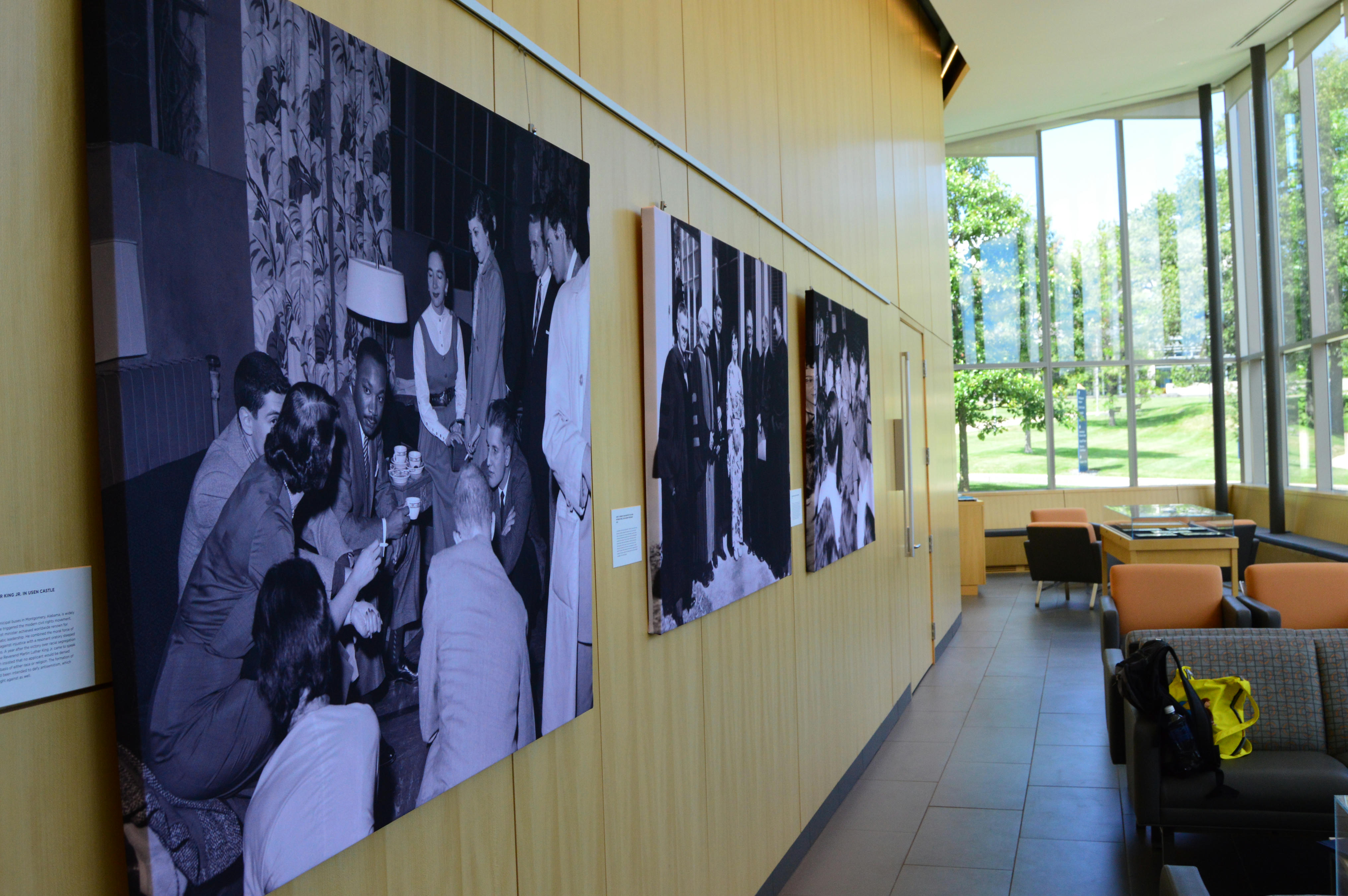 Some of the historic art at the Undergraduate Office of Admissions
I might have been tending to not being open to new schools after feelin' it at one. In particular, I remember after leaving Brandeis Ms. Scott asking me which of the universities so far I'd liked the best, and with my not so good tend to enclose my mind on one school, it might be obvious I had said Dartmouth just as I did yesterday (which I truly did fall in love with). However now that I think about it, I believe that I am a great fit for Brandeis (as it can for me as well) considering the liberal arts that I am curious for, the unique Brandeis community I've been told it has, but mostly my prevalent focus in the sciences that it offers. I'm not too sure how many more schools will stand out to me, but I'm considering Brandeis for the well-roundedness it has to offer!
As far as the tour, it was great! I had finished up taking some historic pictures inside the Undergraduate Office, so I missed the tour guide's intro. I did learn their names along the way, though- Dennis and Katy. Dennis began the tour with soo much energy and enthusiasm! I loved that he was very charismatic and very funny. What I loved about Katy, though, was how down to earth she was. Both of them were super friendly and really intelligent and high achievers themselves. Katy is actually a '17 Neuroscience and Biology double major and is also on the Pre-Health track. Dennis himself is a '16 Theater and English double major, but wants to pursue a third major in Sociology; he is minoring in Education as well as Social Justice & Policy. We made our way to the Ruth and Carl J. Shapiro Science Center. It was such a modern and beautiful building with a nice study area. The school also had a library with a Starbucks, accessible computers, and academic help. Fortunately, we were able to stop by inside the dorm house and check out a dorm. It was pretty spacious and more open that other dorms I've seen. The dining halls were pretty cool too. I liked how you had the option to submit a recipe so the dining hall staff could somewhat make a piece of home to the students. Just to close off the tour on a cool note, we visited the Usen Castle! This here was more of my expertise based off my prior research. Essentially, the history of it is of a man wanting to build a castle like one he'd seen in Europe. Because he wasn't given the blueprint for it, he hired architects and artists to design and build one on their own. Because it was built from the outside in and due to much remodeling, the dorms in there are said to be in pie and U-shaped rooms. It was pretty cool to think of living inside a castle! On that note, the tour came to an end and the group and I headed to dinner at Menton.
Dinner there was exceptional. We were supposed to meet the Admissions Officer of the California region, Jennifer Cotton, but unfortunately she wasn't able to attend The group decided we'd have time to reflect on our trip so far as well as our day today. We had a seven course meal with many other things in between. With so many things we had, its hard to name each and everything, but let's just say it was super fancy, new, and quite interesting (for me). The Pomegranate Lime Fizz was pretty awesome to begin with the dinner. It was nice and fizzy, as well as sweet and fruity, a cool start to the dinner. I personally had the Hiramasa Crudo, an interesting delight. Though it was raw, something I don't regularly eat, I enjoyed trying something new, especially because it turned out to be better than I thought. We were also given some pastries with some butter, which were AMAZING. Following along, I had the Wild Striped Bass, then the Quail (it had escargot too!), and finally the Cherry Galette. The conversation with the group was pretty nice. It allowed for us to be able to let everything sink in. I'd definitely say it was some nice bonding time, adding on to another, now cherished, memory.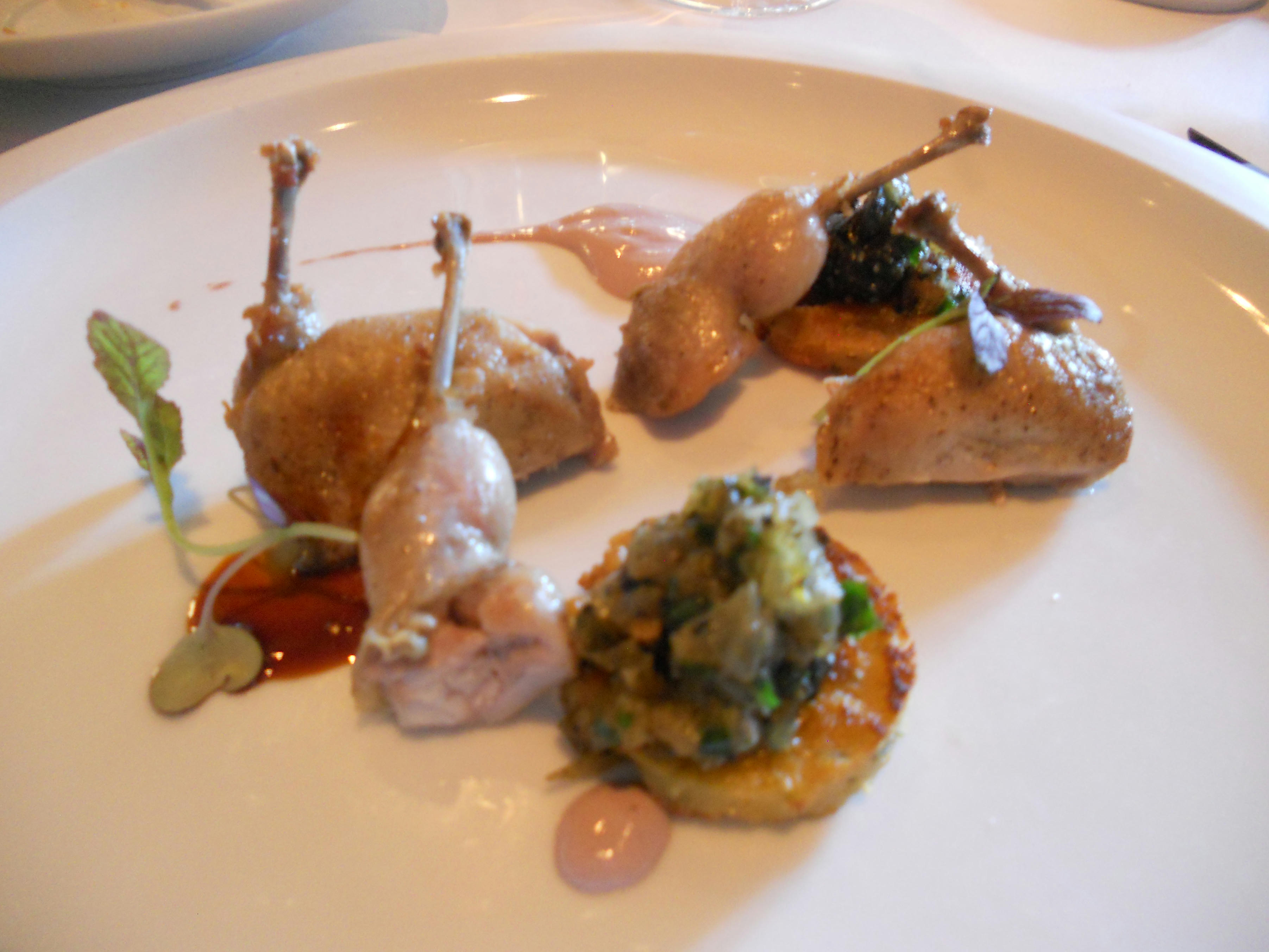 The Quail of the night
Making our way back to the hotel was such an awesome experience. It was so laid back and such an awesome time. We'd been suggested by our waiter, Marick (awesome host by the way) to stroll on by to our hotel. We'd initially had a cab in mind, but it was almost a unanimous decision to take the walk back. We were slightly set back by not knowing the exact way back to South Station, but that only added some more to the excitement. We were able to make or way through the tall buildings, city lights, and busy streets. A nice little highlight was when a few school buses passed by us with seemingly middle schoolers waving so excitedly at us! We had nothin' to lose so we just went at it and waved hi back, or at least my great pal Jack and I did, and cheered them off as they seemed formal as if for a dance. Caught up in the moment, I even decided to take a quick selfie (self-taken picture) before the bus would have zoomed off away. It was probably thee highlight of the walk back, besides gazing out the Summer Street River as we crossed the Summer Street Bridge. It was so nice being able to walk amidst the coolness of the night around a lively, new environment. Alas, we'd enjoyed our approximately 10 minute stroll to South Station, enjoying every single moment it gave us. Alas, we made from South Station back to Providence.
Arriving to the hotel was such a relief! It was late by then, about 12:30 a.m. so making it back to rest up (and work on our blogs, of course) was really nice and comforting. I did take quite a while to continue and finish up our blogs. I happened to inevitably knock out, so I'm just beginning my morning trying to complete this blog on a good note. Nobody likes to have Evil Don on their case, so I'm just doing what I can to stay good. Anyway, today (now June 21st) is the day we will visit Harvard and MIT. Due to my lack of knowledge on these schools and not having actually been there yet, I sort of already have a predetermined perception of both schools. I do know that I felt completely different about each and every school, as opposed to how I thought of them before, after visiting them. I'm looking forward to one two last college visits before we actually get settles in the brown dorms and get to work on all of our course work intended for our summer! To top it off, it will be very bittersweet to actually make the transition from very packed and extremely tiring schedules to something more laid back ans at our own pace. However, it's been continuously been prevalent in our minds that we will also be making the transition from a luxurious hotel to not the best reputable dorms. In both cases, it will be yet another beginning and a new page to this trip. I'm hoping to make the best out of this last day and anxiously await as time transitions us into that new page of our trip.