5:30 a.m. is the time the alarm went off in our hotel room. Brandon and myself took a few minutes to let the fact that we could no longer sleep sink in. Eventually we'd gotten up and ready to meet up with the rest of the cohort in the hotel's lobby. Quickly, we headed towards the AMTRAK station. There we prepared ourselves with our boarding passes and awaited for our 2 hour ride to New Haven, Connecticut, as we'd visit the first school of the trip- Yale University.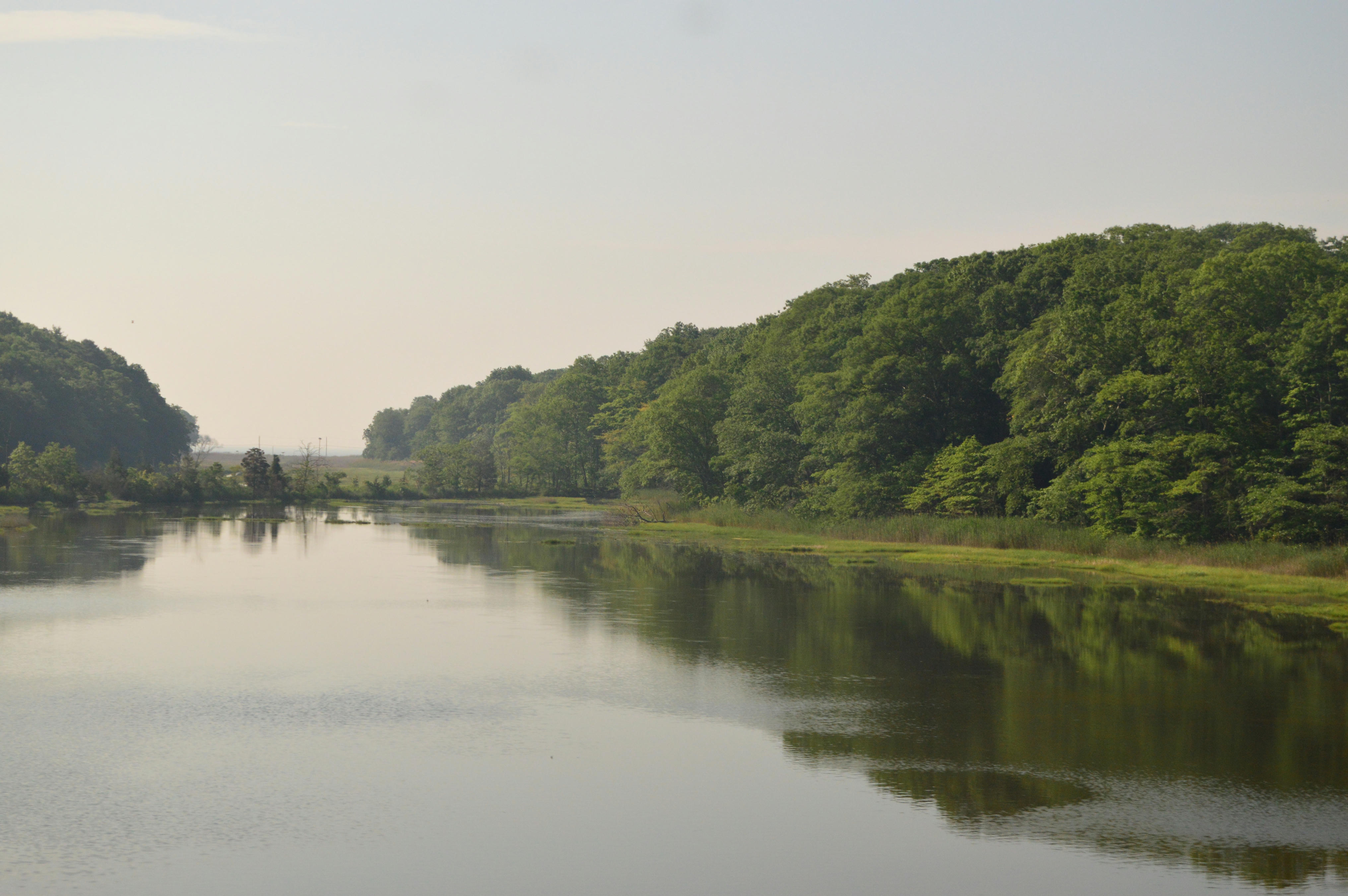 One of the scenic moments as we rode AMTRAK
There was not much action on that two hour ride, other than short delays that held us back for a short while. However, once we arrived in New Haven, Connecticut, we split up into two groups to catch a cab and get to Yale. Once we stepped foot on the Yale campus, we decided to take a few steps along the sidewalk and look at some of the school's eye-catching architecture. Just as the other half of the cohort (Ms. Scott, Jing, and Jack) arrived, we headed towards Wall Street, where we sat down at Wall Street Pizza and Restaurant. There, Rose took our order and we awaited our variety of home-style breakfasts, including the Club Breakfast, Veggie Omelette, Breakfast Wrap, and Oatmeal. Full and still tired from the yesterday's strenuous first day, we took a while to rest and brainstorm a few questions before meeting up with Dara Norwood, Director of Admissions at Yale.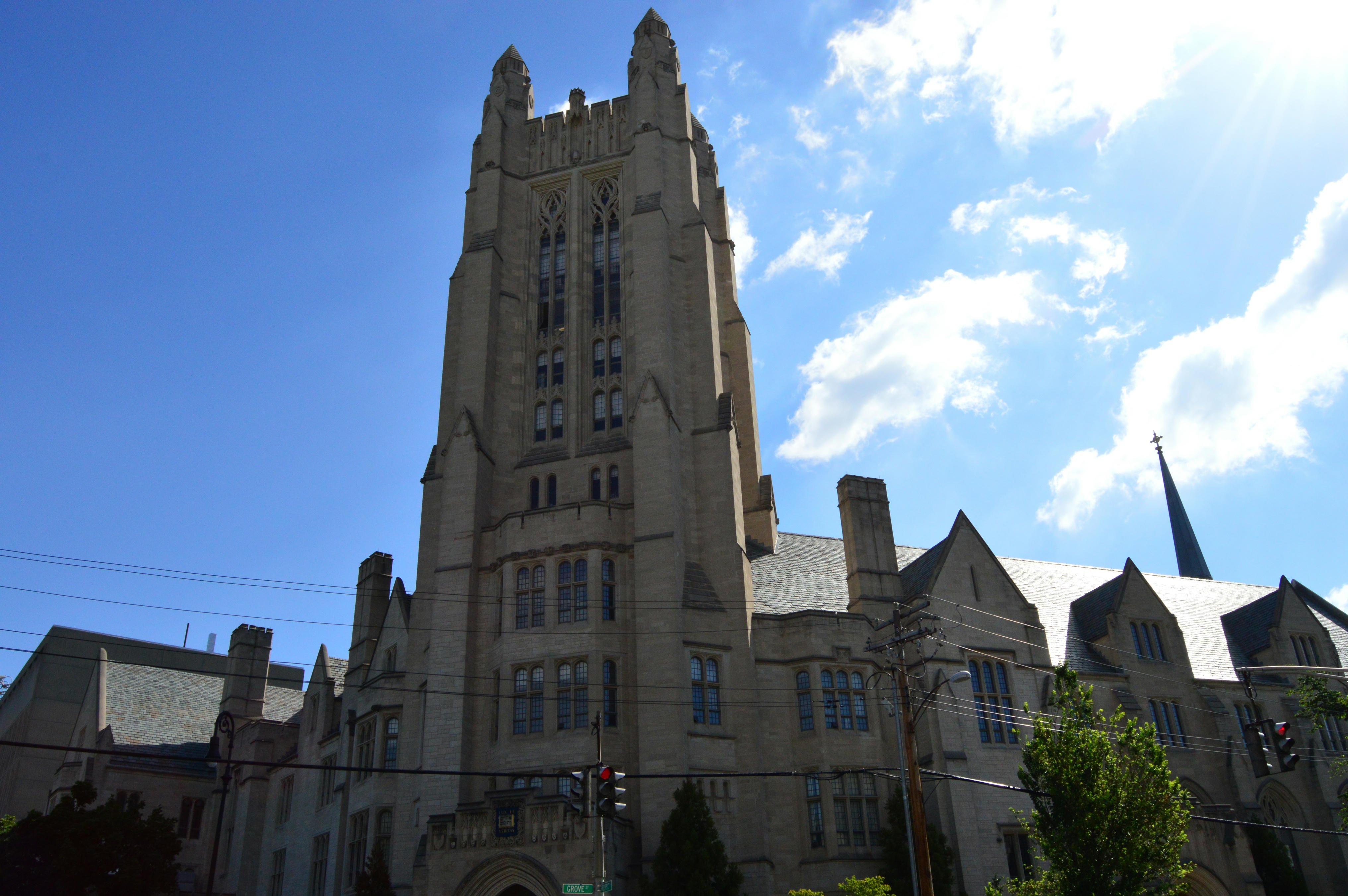 From experience, Yale's buildings are more beautiful and intriguing in person
After making our way back up a couple blocks to the Undergraduate Admissions building, we checked to look for Ms. Norwood and finally came across her. We had the opportunity to ask her our application-related questions before the informational session. I was quite nervous, to be honest, standing alongside my cohort in front of a Yale Undergraduate Admissions Director. This was our opportunity to ensure we could get a few questions of ours answered. Not spilling the "magic sauce" for an exceptional application, Ms. Norwood advised us the basics regarding applications, including "acceleration credits", beneficial courses to take, and the admissions process. During the informational session, however, I was shocked to know she had read about 1400 applications herself. It's crazy to think how many applications someone has to go through in order to narrow down and ultimately select the new prospective classes of Yale. Besides the basics, Ms. Norwood threw a plethora of information at the us, including, but not limited to, Yale's student-faculty ratio, required classes, research opportunities, culture, housing, clubs and sports, and more of the application. With a surprising 3:1 student to faculty ratio, and more labs that students could use among what she explained, it was obvious that Yale is more than very caring for the quality of education and assistance of their students. Furthermore, I found out that Yalies must take 36 classes in order to graduate, 12 consisting of electives, 12 for their major, as well as 12 "distribution" classes. At Yale, it also became clear that it encourages students to study abroad at least once. With so much to offer and such assertion for the pursuit of one's education and global connections, I was intrigued by Yale more so than before visiting it. In addition to that, I even learned that students can even design their own projects and have Yale fund for all its needs. I'm not sure who wouldn't like that, but I sure would.
Here with Jordan, on the right, giving us a tour
Once finishing the informational session, we went on campus tour, with our tour guide, Jordan. He began with the historical background of New Haven, covering the fact that it used to have a place for a cemetery, which was then moved over afterwards. I'm sure now we all know that unless we want to go on a spontaneous, probably spooky late night adventure, we're not to walk the old grounds of the cemetery. Of course, we didn't and don't have time to do that ourselves, but if we could..... well, I'll just leave it at that. Anywho, we continued the campus tour by making our way into a memorial building for the Yale students who had fought in World War II as well as an iconic library "exhibit" with declassified CIS cases and other neat antiques from as far back as probably around 5 hundred years ago. Following that, we headed to more of Yale's iconic building, such as one who's inspiration came from the sharing of knowledge with one another through book. While there at that site, we turned around and walked towards a unique fountain, made as a thesis project by a female Yale student. Its significance was demonstrating the introduction of female Yale students ever since the school's founding. Starting off at 13, the number has then increased over the course of the years to such extent that Yale was and remains no longer an all-guys school. A few more stops included a few statues, the Theodore Dwight Woolsey, Nathan Hale, and Abraham Pierson statues, who are of people who were all important contributors to Yale. Moving along, our tour guide also took us to see all of the residential colleges. All I could think once we got to Branford College was WOW. The building literally looked like a castle! It was pretty medieval but man, was it beautiful. To be honest, it was nothing like i had envisioned Yale. Prior to the trip there, I had only seen pictures of main sites at Yale, yet the didn't seem to really visually intrigue me. It was until today that it all changed.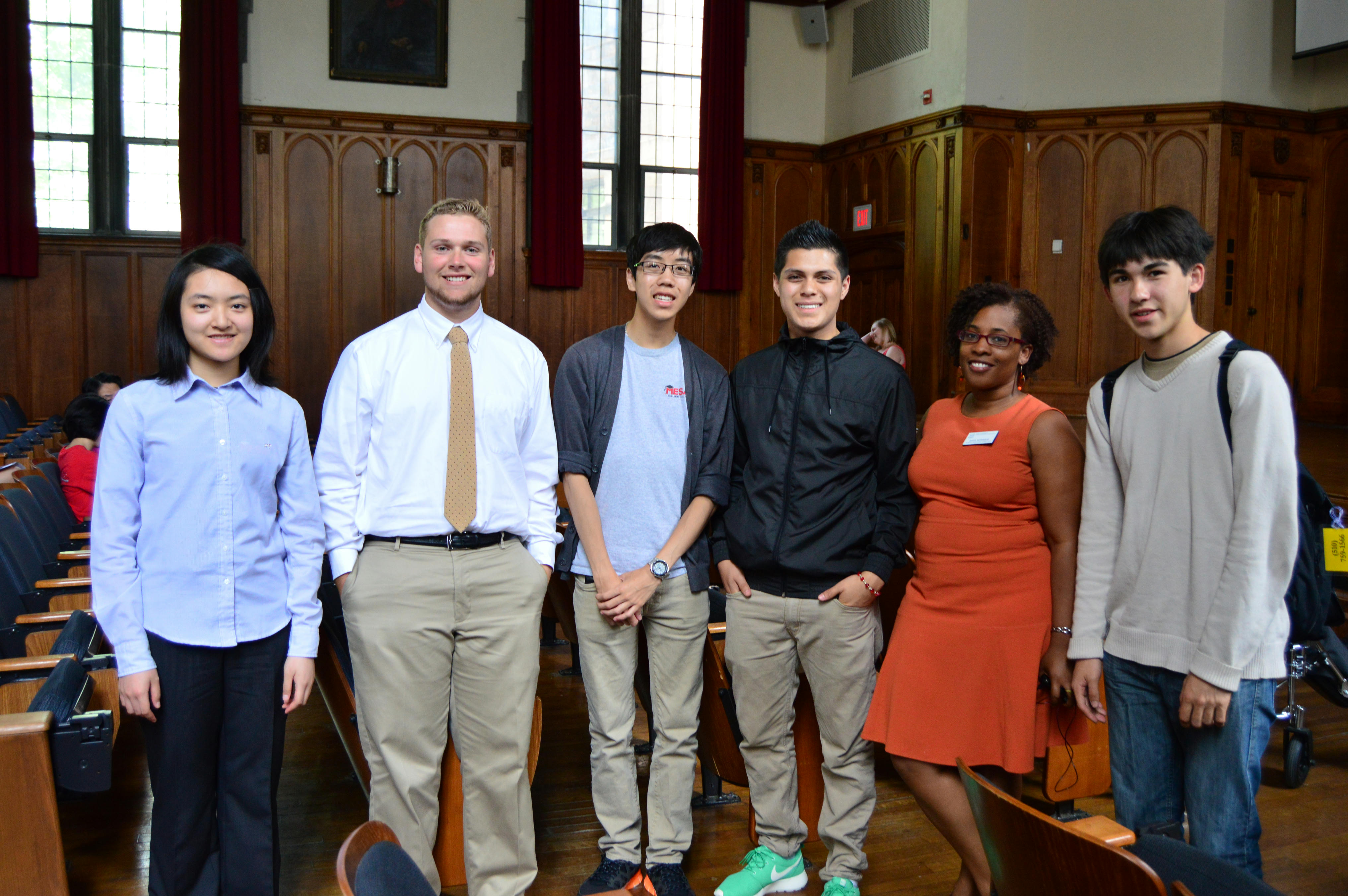 With Director of Admissions at Yale, Ms. Dara Norwood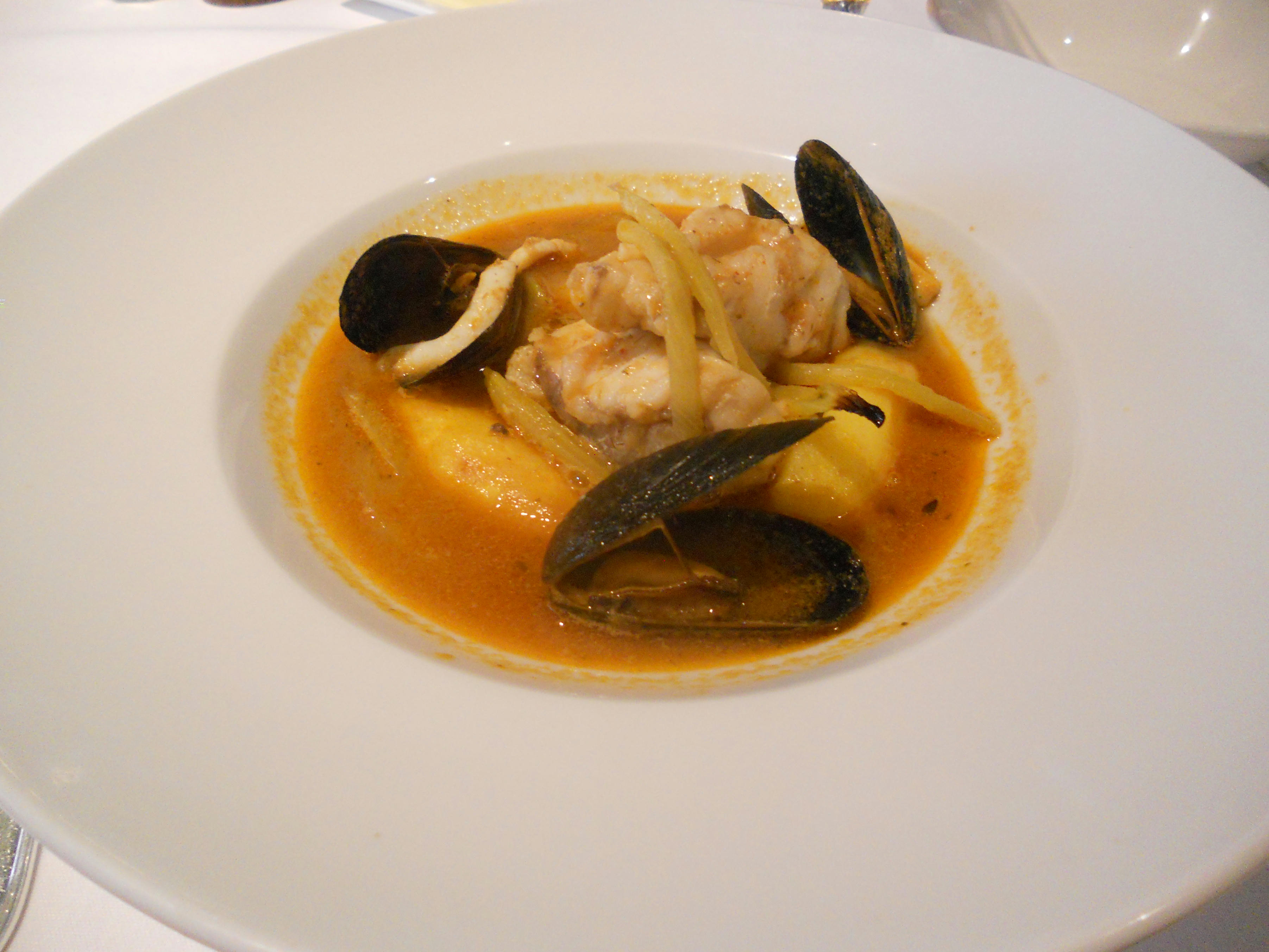 The Bouillabaisse I had was pretty rich and delicious
The trip, in fact, induced me into considering applying to Yale. I honestly never looked into it very much, but it really stood out to me after the informational session, campus tour, and to top it off, we even chatted with a few students for dinner. We met Austin ('15, majoring in Chemistry and Political Science, also a WCCUSD alum), Xuan ('16, majoring in Mechanical Engineering), and James ('16, majoring in Biomedical Engineering) and awaited our very fancy dinner. After settling down and ordering up some mussels and duck liver foie gras (similar to pate) as our appetizers and went straight to chatting about Yale. We were suggested with college basics as well as high school advice. Unfortunately, I was feeling slightly dizzy, as I was lacking some serious rest, and as a result wasn't able to pick everything quite as best as I could have. However, I was able to pick up that Yale has so many clubs. In my case, I was pleasantly surprised to know they had many dance clubs. Having been in one these past two years of high school, I know that something of that sort would been pretty cool, Okay, so a club might not be everything, but moving on to the next point was that the school didn't necessarily matter all that much either, It is better to be an active student at a higher education institution, as opposed to lacking at even a highly prestigious one. Nonetheless, I was still really interested in Yale to keep it in mind when applying for colleges.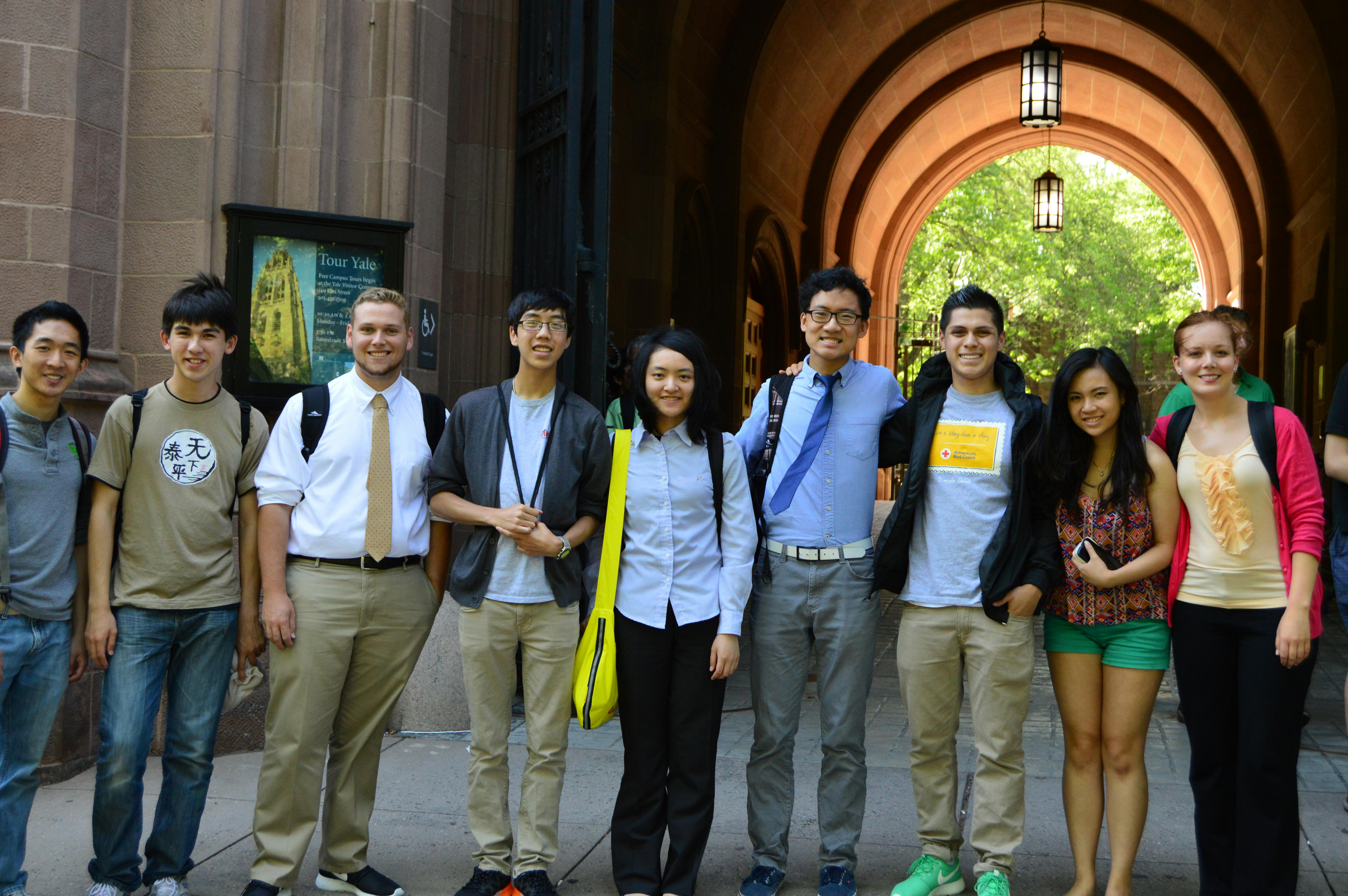 After the longest dinner ever, our group headed out to catch the shuttle. Accompanied by Austin, Swan, and James, we met at one of the gates, where we all took one final picture and said our goodbyes. Sadly, our time with them was up, however I'm grateful for the experience, as they were really amiable and helpful. Just after heading off to ride the AMTRAK, we found out that there was yet another delay, and withheld the timeliness of our schedule. Fortunately I was able to be efficient and continued on this blog, which requires much more time than I had anticipated. Despite it, though, I'm glad simultaneously because I'm able to work on and develop on my skills. For the most part, we always have some room for improvement, which is yet another thing I hope to accomplish throughout this trip. Towards the end of the trip, Kevin joined me, concerned about the WiFi issues the train faced. Eventually, though, we began talking about our time here on the East Coast thus far and our process getting into the Ivy League Connection. We actually also discussed more or less about summer programs and internships and touched the subject of international schools. It was so interesting going back and forth from schools to touching on politics and engineering as well. Kevin is undeniably one of the most knowledgeable people around my age I know and as a result, surprised me with the interesting conversation we carried on on our way back. Alas, our conversation came to an end, as did our train ride.
We had arrived back in Providence, back in Rhode Island, The first thing we did was head out the station and realized we were going the wrong way. With some rerouting from the station to to Hotel, we happened to pass through the park right across the street from Providence Biltmore and witness the simple beauty of the park's green scenery as well as the great fountain in the middle of it. After getting to the hotel, we decided we'd might as well eat and headed back across the street again to get Subway. Okay, so now we were ready to go into our rooms and let the blogging begin. Brandon and I are currently with Jack and Kevin in their room writing away as we reflect on today. It's pretty chill having this blogging get together, especially because we're cracking some jokes and even learning about the supposedly haunted side of history of this Hotel. This hotel sure inherits its history, which makes it more special than it already is. I mean, I'm going to miss its incredibly comfortable bed, fluff pillows, flatscreen TVs, and spacious setting once we head out to Brown and live in its infamous dorms. For now, that is it as far as today's retrospective. Tomorrow holds a new day, as you may imagine, and we must all be well rested for it. In retrospect, the ILC really induced me into considering Yale, for its exceptional housing, superior assistance and help, and, of course, outstanding academics and opportunities. I lie on this comfortable bed awaiting some much needed rest and awaiting a new tomorrow.