Our trip to Providence today has been full of many new things. To start things off, the Brown-I cohort, all the parents, Don, and Mrs. Kronenberg met up at El Cerrito High School at 3:30 a.m. We assured that we had everything we need. Subsequently, the cohort gathered to take our group photo, as shown in Don's blog below. At last, the day we have all worked for was here. We hugged our parents and boarded the shuttle. On our way to the San Francisco International Airport, I was enlightened by looking out the window and witnessing dusk. Upon arrival, the group and I felt the cool, fresh air of the early morning and headed inside. Of course, we checked our luggage in and underwent the security process. We made it through and headed on to await our flight. There, we had a short while to look around and get something to eat before we'd take on the 4 hour flight to our halfway checkpoint in Chicago.


I sat alongside my cohort member, Brandon, and made most of the flight with a sleeping man at our left hand side. Though not much luck with him, we managed to make minimal contact with the lady and her baby, who had exchanged seats with the him. It took only a wave and a smile to lighten up the baby's bright blue eyes and bring a smile on her face, though I think she may have been taken away by the view outside the window to give us any more attention. Anyhow, we had arrive at Chicago, where we quickly transitioned into our second flight, this time heading out the Providence! First thing out the plane we felt the rush of heat and humidity overtake each of the cohort members, but decided it wasn't too much too handle. We boarded the second plane, once again with Brandon as my partner, along with Jing this time as well. It was another 2 hours or so until we'd arrive in Providence.
At last, the airplane landed and we were all finally in Providence! Right after getting off the plane, we newly experienced the hot and humid weather that welcomed us to the East Coast. It wasn't too long after we got off that the luggage was ready to go and so we headed off to find out shuttle. Apparently, our driver was standing at the exit of the airport, yet it seems as though our ambition got us to pass right by him as we made out way outside. Fortunately, though, he found us at the shuttle before we even knew where we'd find him and shortly after arranged our luggage on the shuttle. Our driver, Jeremiah, was actually very pleasant to be with. The first thing we noticed was the taste of music, old school rock, whose mellow tunes we enjoyed from. Later into the ride, though, we were able to connect as he shared a few suggestions for visiting sites here in Providence. Though we should have our sites planned out, a Duck Ride (a historically informational ride around Providence), if I'm not mistaken, was among a few of his suggestions. After encountering minimal traffic and speaking to Jeremiah throughout the ride, we arrived at Providence Biltmore rather than Hotel providence, due to the fact that Hotel Providence was fully booked. In such case, we arrived to a more antique setting inside. Upon entrance was a staircase to the second floor of the hotel and a beautiful chandelier hanging down from above. As pleased as we were to see this unique setting, some of the cohort members, including myself, decided to take a couple shots of the place while Ms. Scott worked on checking us in.
Our entrance to Providence Biltmore (I can't seem to rotate it; my apologies)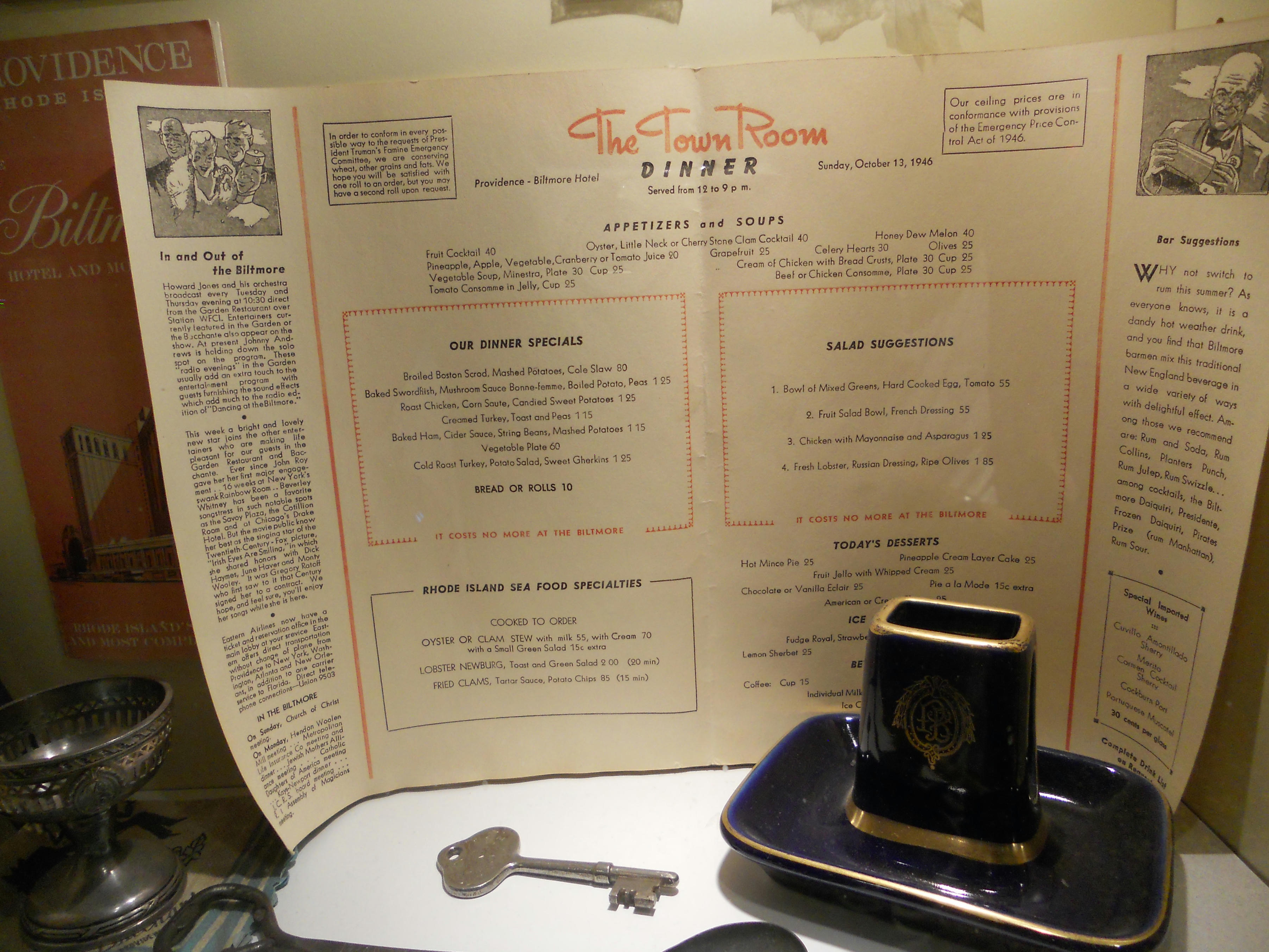 The Town Room Menu, quite the antique
After receiving the key cards to our rooms, we headed up the elevator and made it into our rooms, with only enough time to settle in before we'd head back down for dinner. We decided that we'd have dinner at the restaurant's own McCormick and Schmick's seafood and steak restaurant. We were warmly introduced by Chris. It's pretty amazing how much heart he radiated within even the first minutes of being inside the restaurant. In fact, the first thing he had told us was how a fabulous group we were and then even went off to compliment my shoes, whose color he was really fond of. He was quite the storyteller as well and had some interesting things to say. He shared with us some background of the diversity of his family, the importance of education, and told us one other important thing. Essentially he'd told us to not to judge a book by its cover, but as cliche as it may sound, it's funny how sometimes life remind us that this saying holds its truth. Chris really took me by really pleasant surprise. In particular, I won't soon forget at the end of our meal him asking us, "what kind of food are you eating?" Two of the replies came from Jack and Kevin, suggesting seafood and New England food. Though slightly timid, I suggested if it was Soul Food. I can still remember him saying "Oh my God, I love you!" It felt so pleasant to get the answer right, but anyhow, he continued on to tell us that soul food doesn't necessarily mean fried chicken and collard greens. Instead, he told us, it meant eating with your body and soul with others while enjoying everyone's company with one another. Then and there, I fell in love with his unsurpassable hospitality . In fact, I'm looking forward to having another meal there (perhaps the 1/2 pound burger with fries for $3.95 on their happy hour which he told us about...). It made quite the difference of transitioning to a new environment with such warm regards. All in all, our first meal here in Providence has been quite exceptional.

As I lie on my huge, fluffy, and comfortable bed here in Providence Biltmore, I am thinking about what is in store for us tomorrow. We will actually be taking the train to explore Yale and even speak with some students along with the Director of Admissions, Dara Norwood. It's exciting and slightly overwhelming at how much has been packed into today and how much there is in store for tomorrow. The only thing that I won't look forward at too much is waking us early, as we've been awake for almost an entire day and have to be ready to leave just after 6 tomorrow morning. Alas, the today has gone by real quickly, yet ever so slow and steadily. It's crazy to to reflect back on today and thinking, "Wow, the day actually kind of did go by really fast" Even crazier is that before we know it, we will all come to retrospect this new chapter in our life. All I know is that for now, I am going to enjoy each day at a time and make the best of this once/twice in a lifetime experience. In such case, I'll go ahead and shower in order to be ready tomorrow morning and to ensure a good night's rest for tonight. On to the next [day]!